How to Start a Blog – Are you struggling to set up a blog or finding some easy to understand guide to create a blog. In this guide, I will explain to you briefly how you can quickly start your blog, especially for beginners.
The internet has grown thousands of opportunities for us. Therefore, the blogging industry is also increasing rapidly every day.
In fact, Blogging is becoming a full-time career option for youngsters these days.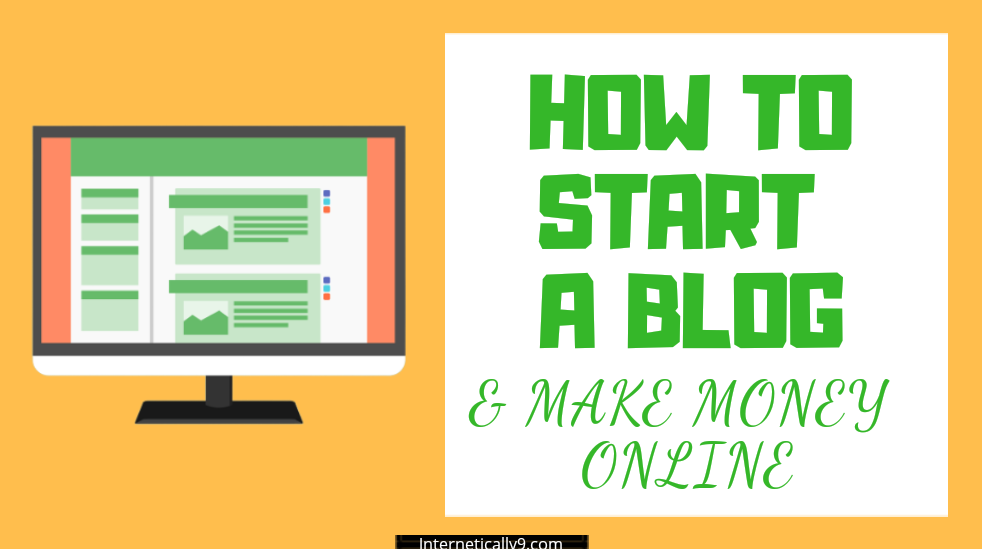 In addition, Blogging has much more potential in online business, but sometimes people get stuck due to the lack of technical knowledge.
However, it is not true that you need to be a tech geek to start or create a blog. You need to follow this step by step guide, and you will quickly set up your blog within less than 15 minutes.
Before moving ahead, I want to show you some genuine Blogging success stories:
HuffPost Report – How This Lady Making Insane $50000+ from a Food Blog
Forbes Report – How These Successful Bloggers Left 9 to 5 Job and Became Millionaire through Blogging
BBC News – From a Berated Blogger to Beauty Millionaire
A Detailed Guide On How To Start A Blog – Using 7 Steps:
Learn Basic SEO.
Start a blog with a micro-niche.
Select a domain.
Choose a reliable and affordable hosting plan.
Install WordPress for a fantabulous blogging experience.
Create and write content for them.
Promote your Content and Learn advanced SEO.
So, here are the most straightforward steps to follow if you want to start a blog.
However, I would like to go in deep into all the steps. Starting a blog is not difficult but converting it into a successful business in trouble.
So if you are reading about blogging for many days and today, you just want a tutorial. Then you should directly jump to the final step.
But if you have just read some "make money online" blogs here and there and decided to create a blog.
So then you should read this post entirely because Blogging is not a money-making machine as many beginners think about it.
Step 1. Why You Should Start A Blog?
In this era of technology, The world has massive potential in online businesses. The number of internet users is increasing day by day. Hence, more people are taking an interest in starting a blog.
There are many reasons to start a blog. Here are a few most crucial reasons:
1. There are more than 5.8 billion internet users in the world.
As this report says, Internet users have seen exponential growth in the last few years.
A few years back, there were a limited number of blogs out there. But nowadays, you can easily find a blog on each topic. Some of the people do blogging for business, some of them love to blog, and some of them are just addicted to Blogging.
Also, people have a reason for Blogging. However, most of the bloggers do it for money. Blogging is the most popular idea to make money online.
There are many bloggers in the world who are earning thousands of dollars in a month. These bloggers are the biggest inspiration for newbie bloggers.
However, it is also true that people get over-excited after seeing the earnings of these bloggers. They immediately believe that they can also earn like them by just starting another blog too.
Unfortunately, it is not entirely true, and it is not as easy as it looks like. Those people who are earning thousands today, they are working on their blogs for many years. Blogging is not like a sweet banana, which you can buy and eat quickly.
Blogging needs consistent hard work, patience, efforts, investment, and many more things. However, Blogging does not ask you for a massive investment, like many other businesses. But you need to spend at least a few bucks to buy your domain name and hosting plan.
2. Highest Search Volume of Keywords
Keywords are the most crucial part of Blogging. Each keyword has its search volume and competition. There are many keywords on which more than a million people do search each month.
You will also be shocked that these keywords have high search volume all over the world.
You just need to invest some time in keyword research to find the best keywords for your blog. Many people want to start a blog but don't know about keyword research, which makes them unsuccessful in Blogging.
3. Starting a blog is not expensive
Starting a blog is not that crazy but finding a hosting provider is. You will always get stuck when you start seeing some good web hosts.
However, you can easily buy hosting and domain from any big brands like HostGator, Bluehost, Siteground, etc. These are the biggest brands and most reliable for beginners.
There are hundreds of other brands available, but these are the most friendly hosting companies, especially for newbie bloggers. They provide very cheap plans compared to many others. This will help you to save money as well.
Also Read: Top 10 Blogging Tips for Beginners [2019 Updated]
Step 2. Choose A Perfect Blogging Niche
Blogging niche or blogging topic, you can call it whatever you want. But you need to keep in mind that this is going to decide the future of your blogging journey.
Choosing a perfect niche in Blogging is the most crucial step. You can't neglect that your niche will decide how much you can earn by it in the future. So make sure you do proper research to find a perfect blogging niche before starting your blog.
If you are feeling unfamiliar with these keyword or topic research in Blogging. I will help you to understand what is keyword research and how can you do it for free. Here I am giving some points which will help you to choose a blogging niche.
1. What Can You Write About?
Writing is the key to success in Blogging. It doesn't mean that you need proper grammatical understanding or to become an award-winning writer. It just means that what you can write about. In short, it depends on your day to day life experiences.
Also, you need to find a topic on which you can talk or teach a full day. You should have a keen knowledge of the subject. It doesn't mean having technical expertise, but it means you should love to talk about that particular topic.
Writing beautiful articles do not need any specific qualification; you need to know how to write Facebook posts or tweets on twitter. Nobody is perfect, and learning is a never-ending process.
However, you should also understand that writing is an art. And you need to become an expert in it as soon as possible. You should learn how to create engaging content and how to attract readers using your lovely words.
So choose a topic on which you can easily write around 100 articles and move on to the next step.
2. Do Proper Keyword Research
Keyword research is the most crucial step in Blogging. However, most people don't know about it even after starting a blog.
As we are talking about the blogging audience, you need to do keyword research, especially for long-tail keywords. You can use many keyword research tools, such as Google AdWords, Ubersuggest, Semrush, etc.
Ubersuggest is my personal choice because it is the most reliable and free tool. You don't need to fill any signup form or face any creepy website layout to search keywords.
Here you just need to type its name on google, click on the first result. You will directly visit a page where you need to put your keyword and choose your country, such as the United States.
Then click on search, and you will get data on how many people are searching monthly for that keyword on Google. It is called the search volume. You can see SEO difficulty to get an idea of ranking abilities.
Moreover, you need to put many different keywords related to your niche. It would be best if you chose a narrow topic for your blog rather than a broad matter. For instance, you can select "luxury handbags" instead of "Fashion."
It is the most significant factor to understand that ranking for a broad topic such as technology, fashion, science, business, etc. is almost impossible now. You need to select a narrow topic from any of these big industries.
3. Select A Micro-Niche to Start a Blog
I have already defined micro-niche in the last step. Blogging is all about ranking and traffic. If you are not able to rank on Google's first page, your money and hard work will be wasted.
Ranking on Google's first page depends on more than 200 factors. However, in a nutshell, we can say that higher domain authority will help you to rank higher.
Increasing domain authority is not an easy task. You need thousands of backlinks from authoritative sites. And newbie bloggers hardly can reach around 20 to 30 domain authority in starting.
Therefore, I am suggesting here to choose a topic for your blog, something like "women shoes" instead of "fashion."
Of course, you will have more content to write in the fashion niche. But it is not possible to come on Google's first page with fashion.
To understand why you need to learn SEO and competition on keywords.
Here is also one more important thing. It is also interesting to know that you can outrank sites like Huffpost, Entrepreneur, or Forbes if you choose a micro-niche for your blog.
Google gives more priority to those sites that have more related content on their sites. For example, if Forbes writes a post on "women shoes" and its ranking on the first page. It is possible that you can outrank Forbes if your complete website is all about women's shoes.
Google feels that your complete website is about women's shoes. That means you have more relevant content on your site. On the other hand, Forbes is not all about women's shoes, so they don't have relevant content on their site. Hence, you can easily outrank big websites using the micro-niche technique.
Also Read: How to Find Target Audience of Your Blog
Step 3. Step By Step Process to Start a Blog
To start a blog, we will use WordPress as a content management system, which is the most preferred CMS for bloggers.
You will have complete control on your website using WordPress, while free blogging platforms don't allow you to control your blog.
WordPress carries more than 30% of all websites working online. It is all because of the increasing popularity of it. It is a handy, user-friendly, and reliable CMS as compared to others.
To start a website on WordPress, you will have to buy a domain name and hosting plan. You can buy a domain name and hosting plan from any hosting provider.
However, we strongly recommend to use Hostgator as it gives a 65% discount for Internetically9 users. You can get one year hosting at $3/month only. It means it will cost you around 2600 rupees only.
Many people recommend Bluehost, as well. And Bluehost also provides the same discount, but they give the value for only 36 months plan. It means you have to pay for 3 years at once to get the offer.
Therefore, I don't prefer Bluehost. It is merely because newbie bloggers mostly purchase one year plan to get started. Also, Hostgator provides:
Flexible Cpanel

Unlimited Business Email Accounts

Totally Unlimited Bandwidth

Unlimited FTP Accounts

Unlimited Sub-domains

99.9% uptime Guarantee

Free SSL Certificate
So now, we will use WordPress in this post to start your blog.
Here are the steps to start a blog:
1. Purchase your Domain name and Hosting plan
As we discussed above, you can get the maximum discount as internetically9 users. You just need to click on the Hostgator discount bar below. If you directly visit HostGator.com, you will see their prices are too high. Using this link below. You can get a 60% discount on hosting and domain name, especially for 12 months plan as well.
→ Start Your Own Blog with Hostgator at $2.58 Only.←
Click on the link above and visit Hostgator.
On the next page, click on "Get Started Now."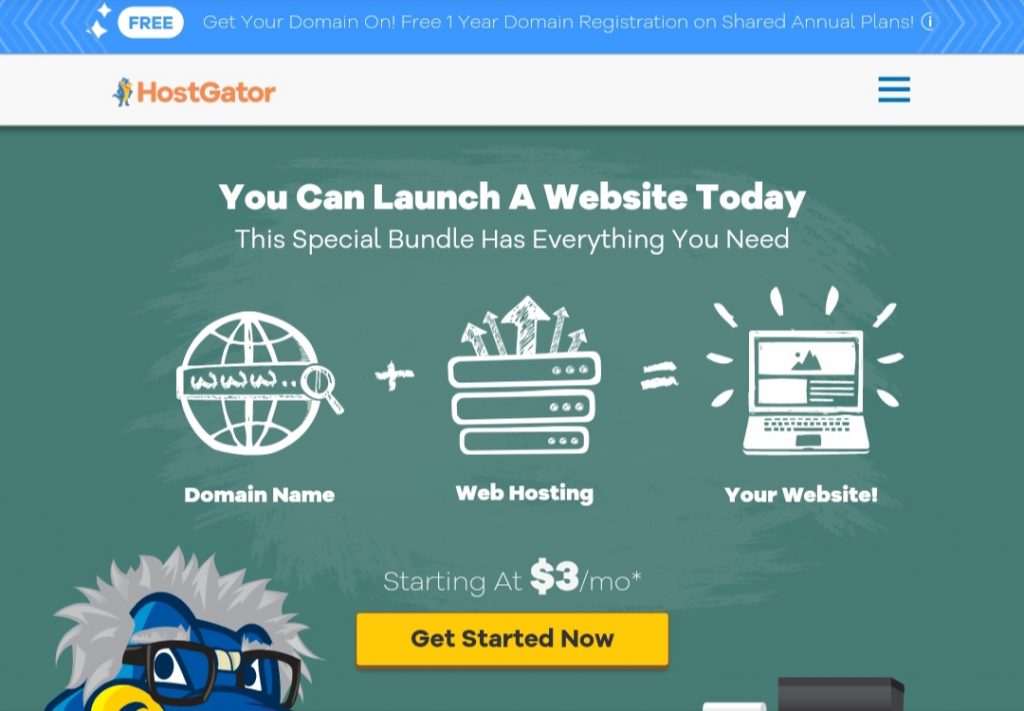 Here choose a domain name and fill your details for signing up.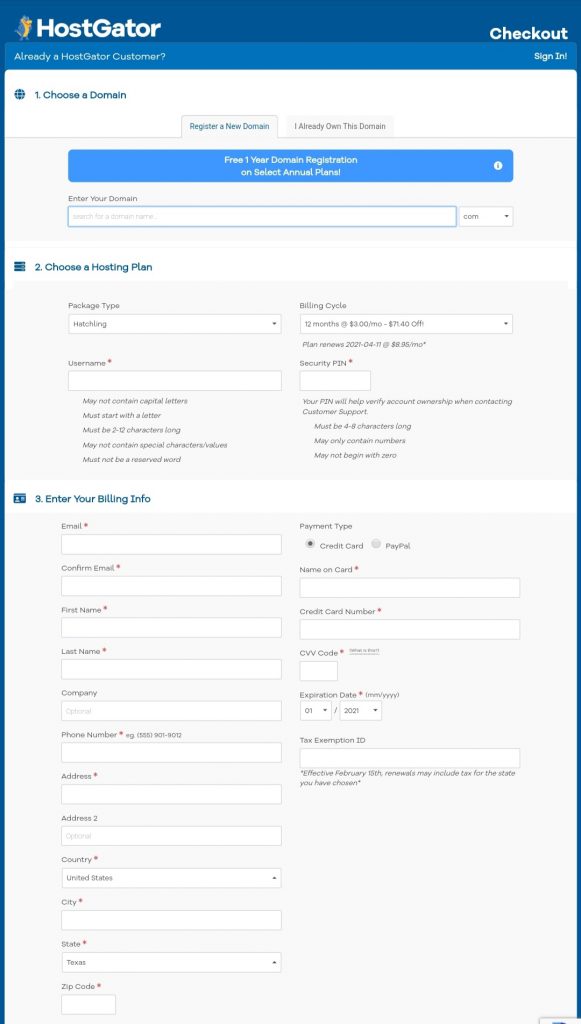 Now, uncheck additional services which are not required for beginners.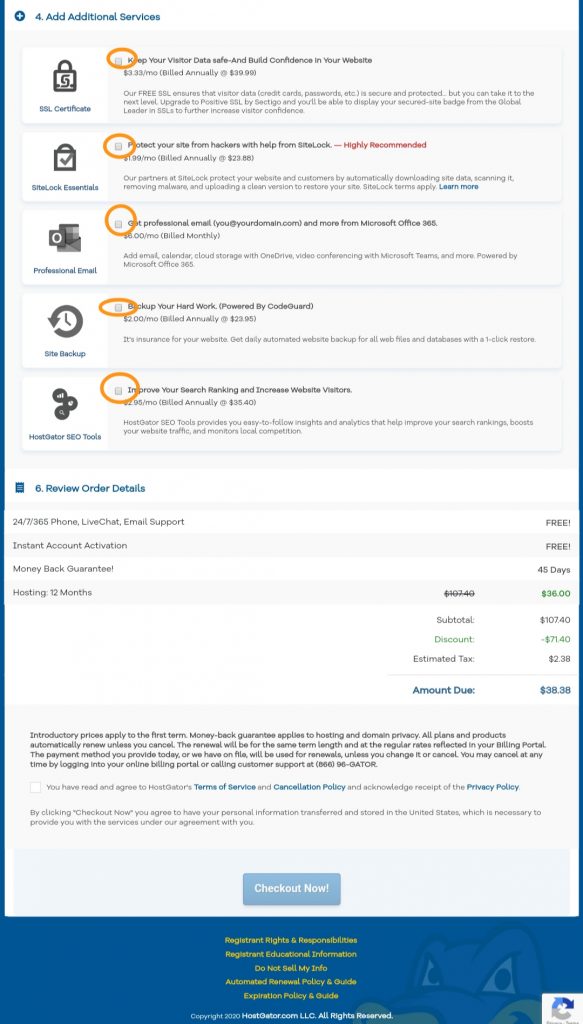 Now, complete the payment, and you are done.
So now, you have purchased a domain name and hosting plan for one year. It means you are the founder of this site now. After that, you just need to install WordPress to publish your blog posts online.
2. How to Install WordPress
As you complete payment in the above step, you will get cPanel login details in your email. Go to your email. Look at your cPanel username and password. Visit yoursitename.com/cPanel.
Now enter your details here and log in to cPanel. As you enter into Cpanel, you could confuse with many technical options.
So don't touch anything if you don't know about them. You just follow my simple step by step guide below to install WordPress easily.
Firstly, as you have logged in to Cpanel.
Now, click on the Quickinstall icon under the Software section.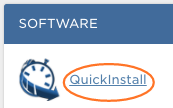 Here you need to click on One-Click Install inside the Website Essentials tab in the left sidebar.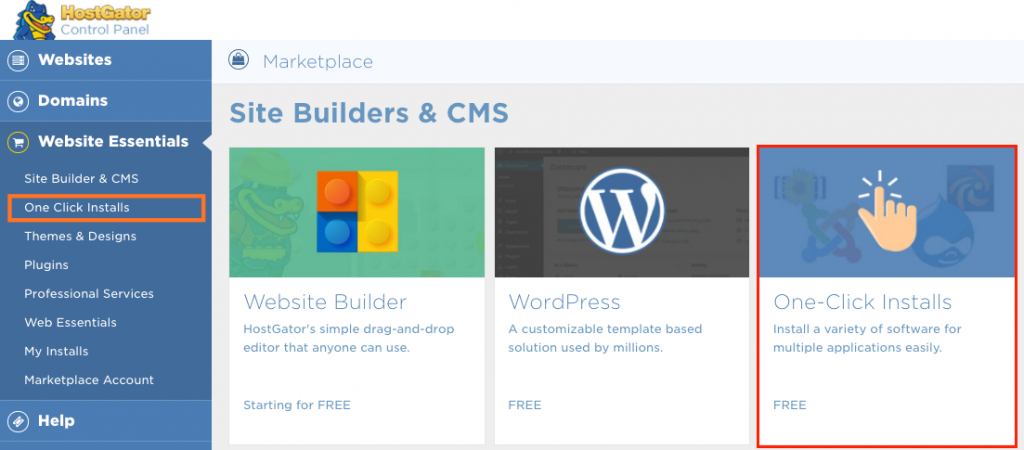 Now, don't confuse with other software. You have to just click on WordPress.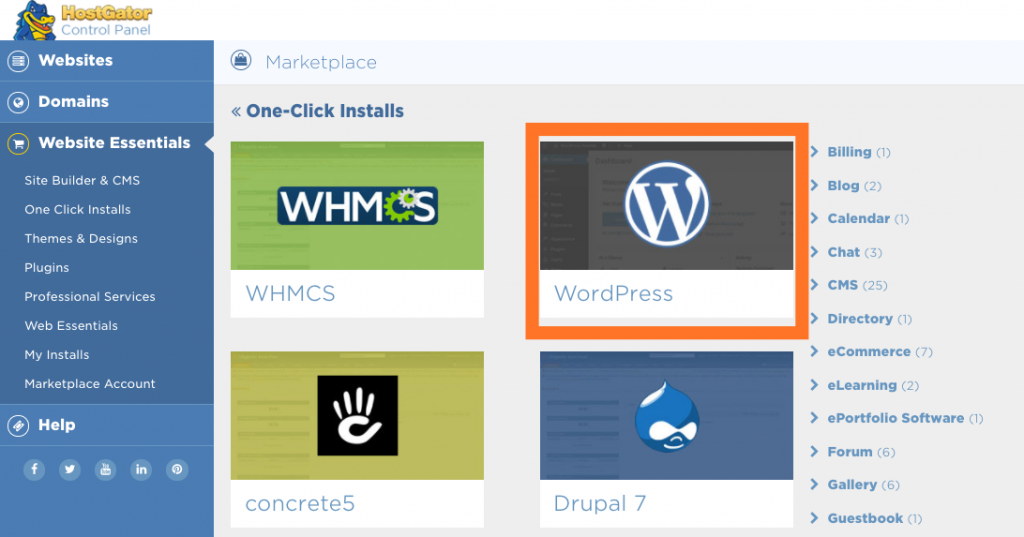 On the next page, you will have to select your domain name, which you bought recently. And click Next.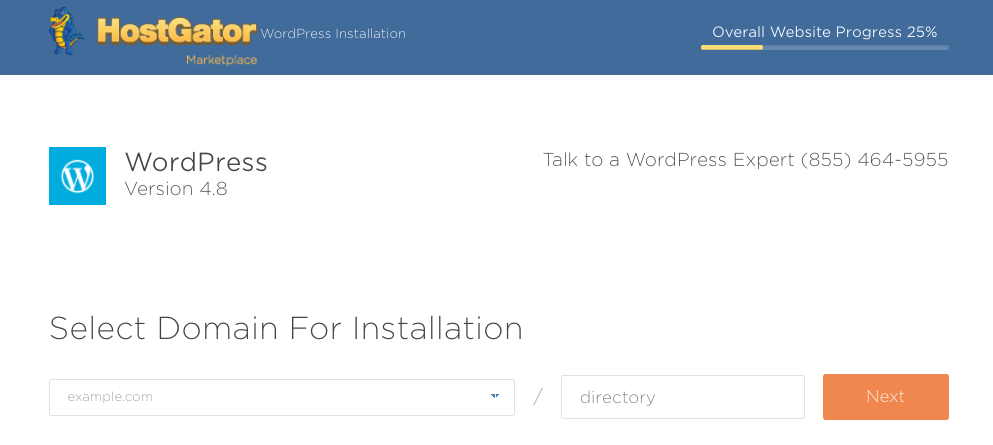 Now, you need to choose a username, blog title, full name, etc. on this page.

Make a note of these details. You will need your username and password forever to login to WordPress.
Choose Username and Password precisely. Don't use Admin as your username or password.
Now after filling all this information. Click on the Install button.
It will take few seconds to Install. If you see any offer, click on No thanks. Then you will see a message Installation Complete.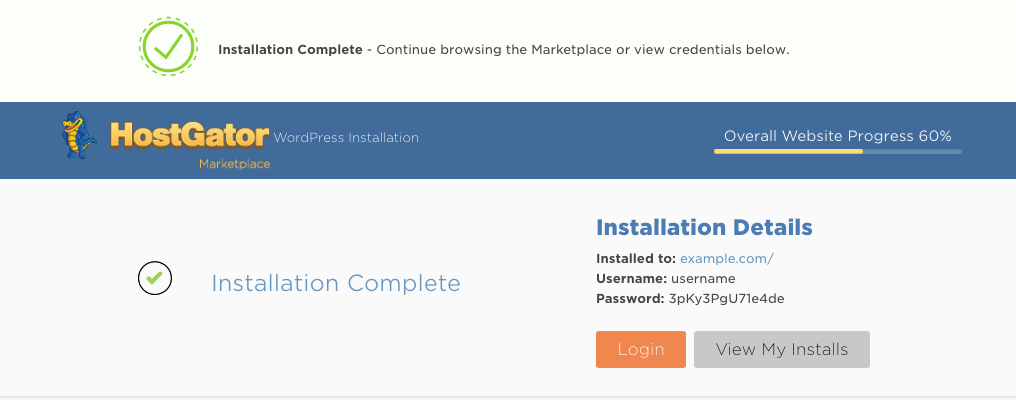 Phewww… Finally, you have started your blog, and now you can write and publish articles online.
However, if you are still confusing with these technical steps, you can directly contact HostGator through live chat or phone. They will do it for free. Or you can also contact me to help you with this installation process.
Also Read: 10 Innovative Ideas to Improve Your Writing Skills for Blogging
Step 4. Select Best WordPress Theme after Creating a Blog
Now you are entirely able to start a blog by yourself. The next step would be choosing a theme for your blog, as I suppose that you want to create a blog for the audience. Now you need a unique and appealing theme to attract more visitors.
Choosing a free theme is not the best option for any blogger. You can get many premium WordPress themes at a very minimum cost.
You should understand that premium themes have many advantages over free themes. Therefore, 99% of professional bloggers use premium themes.
Premium themes allow you to change or modify every part of your website. For instance, free themes won't allow you to change footer messages such as "powered by WordPress" or "designed by theme company."
Moreover, premium themes give a "theme options" panel from where you can make various changes easily. You can manage your header, footer, logo, ads, CSS codes, homepage, blog page, etc.
SEO is also is a significant factor in choosing premium themes over free themes. All premium theme companies update their themes according to google algorithm changes. It is super essential for better rankings in SERP.
Premium WordPress Themes
Therefore, I have already chosen some best WordPress themes for you in this post. Here you can select many different themes from various theme companies.
However, my personal choice is Envato Themes. It is because here you will get the best premium themes at a budget cost. As you are starting a new blog and you might not be interested in investing lots of money in this blogging game. Here you will get a top-notch WordPress theme at the best price.
I am a big fan of these guys because of their world-class support team. As typically, any premium theme company won't give support after one year. But Mythemeshop people always help you to make any changes in your website pages.
I am using this theme for more than 4 years, and they are also helping me as a free web developer. Whenever I need to changes my homepage, footer, or header, they just do it quickly for me.
Also, many successful bloggers using Mythemeshop for many years. For instance, Matthew Woodward, Zac Johnson, and many others are using their themes for many years. In short, Mythemeshop is my first and last choice for premium WordPress themes. You can also check some of their premium themes here.
Why is SEO Essential to Start a Blog?
Seo is the backbone of any blog. You can't ignore it if you are going to start blogging.
You should at least learn the basics of SEO before starting your blog. People are creating blogs every day, and competition is already too high.
In this situation, you can't believe in this myth, which says content is the only king in Blogging. If the content is king, then SEO is its queen. If you are still unaware of the SEO, read this guide here to understand the basic meaning of these terms.
In addition, if you will be prepared with SEO, you will not make those silly mistakes that are common in the beginning. I will also discuss those mistakes in detail. People think that Blogging is just as easy as it looks. They don't know the hard work of years behind that.
Furthermore, people usually see Google's first-page result, and they feel that they will create a blog like them. But they don't know that millions of websites never come on Google's first page.
Therefore, I am revealing here some most common beginner's mistakes. You should always avoid starting a blog. This will help you to grow your blog fast, and you can start making money online.
Domain Authority
Domain authority is a kind of power of a domain name. It is specially designed by MOZ to calculate the ranking power of any domain through numbers. You can see any domain's authority between 0 to 100.
In simple words, the higher domain authority you have, the higher ranking you will get on search engines such as Google.
Domain authority can be calculated through various factors such as backlinks to root domain, age of the domain, external links to other pages, etc. You need to build up domain authority to gain higher rankings in Google.
In addition, increasing domain authority takes time and money. It is a harsh truth that if you don't build up your domain authority, you have to invest money too.
However, there is a very famous and old method to acquire higher domain authority in seconds. Buying old domains. It is a hidden secret that there are lots of expired domains on the internet. And they have vast and authoritative backlink data.
Moreover, you can buy expired domains having high domain authority, and you can quickly get higher rankings in a few days. This is all because of the power of expired domains.
You can use Expireddomains.net to find highly authoritative expired domains. Sometimes you can also get good domains in domain auctions. However, you should always check Moz da and AHrefs dr to analyze the authority of any domain.
If you have not a problem with domain names. You can easily find an expired domain and start a blog with it. However, if you want to create your own brand name using a domain name, you should always buy a fresh domain name.
Need Traffic to Earn Money
Increasing traffic on your blog could be more difficult as compared to starting a blog. Most of the blogs spent years with no traffic from Google. As Google is the largest resource of traffic, you need to learn SEO to gain this traffic on your site.
Moreover, traffic is essential for every blogger to earn money through it.
Google AdSense pays low rates to some countries such as Asian countries as compared to bloggers in the US, UK, Canada, etc. There is nothing like that Google hates these countries. Many people believe that Google is doing this intentionally.
However, your AdSense earnings depend on the CPC rates of advertisers. People don't invest a considerable amount of money on google ads; hence bloggers also get lower payouts.
I hope you have understood now that you need lots of traffic to make money through Adsense. Adsense is good for only those who have tons of traffic on their blogs.
If you are going to start a blog on some specific niche. You should try affiliate marketing. It is the most common monetization method for bloggers.
Various bloggers are earning from $100 to $50000 every month through affiliate marketing. Here you just need to find target products for your audience. As many sales you can give to the company, you will earn a passive income through it.
Also Read: Yoast SEO Tutorial 2019: The Complete Solution for All the SEO Need
Different Methods to Make Money Blogging
There are too many ways to monetize your blog and earn money. However, I have collected some most common and profitable ways to make money online through Blogging.
1. Google Adsense
Google Adsense is a common phrase for every blogger. Most of the bloggers earn money through it.
However, as I discussed above, you need to earn lots of traffic to earn money through the Adsense program. If you are not able to generate lacs of traffic a month, this monetization method will not help you to make a single penny.
Google Adsense is always a profitable option for those who are working in a niche that has millions of traffic. That's the reason most of the bloggers are preferring affiliate marketing over Google Adsense.
One more reason for not choosing AdSense is their approval process. Google AdSense guys manually check and approve every blog for their program. It is the most common issue that newbie bloggers struggle with Google AdSense approval.
2. Affiliate Marketing
This is the most beneficial monetization method for bloggers. Affiliate marketing simply means to sell other company's products to your audience. For that, companies pay you to commission on each sale.
There are different affiliate marketing products, and their commission rates are also different. You need to select suitable products according to your blog niche.
For instance, if your blog is all about luxury bags, you can register with the Amazon affiliate program to sell related products.
Affiliate marketing is also not as easy as it feels like. You need to provide valuable reviews and information to your readers so that they will buy on your recommendations.
You need to create a trusted relationship with your audience. People don't easily buy from any common man's advice. They take your advice seriously, and then they believe in you. Affiliate marketing is dependent on trust and value.
3. Sell Your Products
This is also one of the best ways to earn money by blogging. Many people love this to create your own products and sell them on your website.
There are thousands of products you can create and sell on your blog. For example, if you are in a fashion niche, you can sell printed t-shirts and merchandise.
You can also create and sell online courses, ebooks, video courses, webinars, etc. It also depends on the type of blog. You have to do experiments to know what can give you the highest sales on your site.
Here is a benefit of direct selling is that you don't need to advertise for others' products. Creating their own products takes time and effort, but in the end, they worth it.
Also Read: How to Start Making Money Online with Google Adsense
To Sum Up
Finally, I hope you have understood that you can easily start a blog on your own without any technical skills or coding knowledge.
In this new era, technology is growing tremendously, and WordPress is providing a user-friendly content management system to start a blog by yourself.
If you feel that this post has helped you to understand "how to start a blog." Then make sure to subscribe to our newsletter for the latest offers and updates. You can also like us on Facebook and Instagram.