Do you want to earn money through online surveys?
In this post, I will describe some highest paying and legitimate websites to submit your opinions and get paid.
Online survey websites allow you to submit your personal views on different topics.
How to Get Paid Online Surveys and Earn Money?
Making money online is not that much easy anymore. However, online survey sites legally allow people to earn money by sharing their opinions.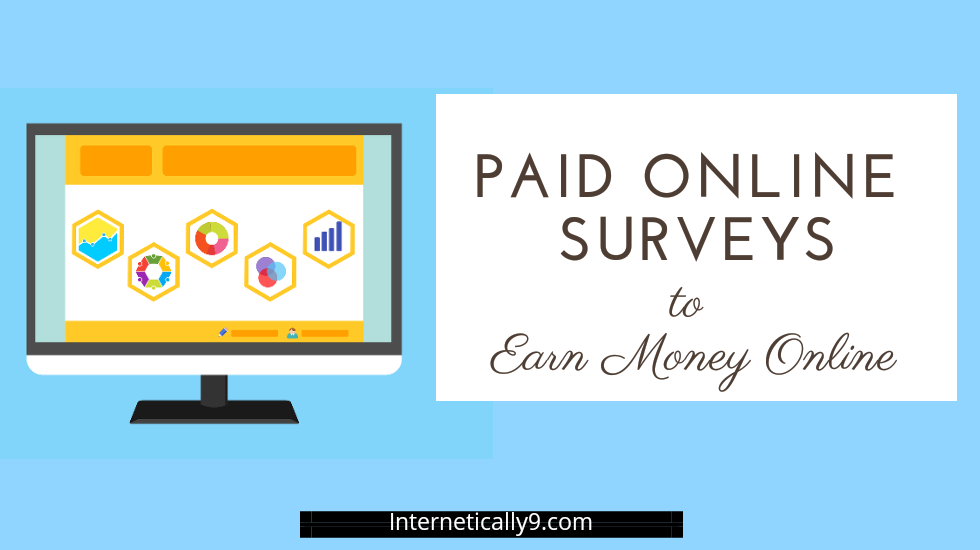 Your helpful ideas and choice will help companies to increase their business. Therefore, these companies pay you money for this job.
Online survey jobs can help you to earn a decent income somewhere between hundreds to thousand of dollars. It basically depends on how many surveys you can complete each month.
You can easily earn $200 to $1000 a month by working only for 1 or 2 hours daily. It is a good way to earn money online.
Each survey takes some time to complete. Every survey has its own prices. An online survey can pay you from $1 to $20.
I will share a complete list of legit online survey sites later. But first, let's understand how this online survey business work.
What Are Online Surveys?
Online surveys are a type of form. Here you need to fill in your information and opinions. And you will receive money in return of your personal choices and thoughts.
Here you will get questions to select the right answers. You will need to select Yes or No for most of the questions. In addition, there are also some questions where you need to choose an opinion from 4 or 5 options.
They generally ask about your age, family, background, salary, occupation, education, location, etc. You have to provide correct information to get more surveys.
Finally, they will collect all this information and then they will decide what kind of survey is suitable for you.
Many international companies are always hungry for people's data. These online survey websites collect this data from us and sell it to companies.
This way you can earn money through filling online forms and completing online surveys.
Why do Companies Need Your Opinions and Online Surveys?
International companies are always trying to grow their business. To analyze the market condition, they give online surveys to people to understand their needs and problems.
As a result, companies can easily understand what products people are mostly using.
How can they improve and create new products? They will also know about your choices. It will help them to understand people's thoughts about their products.
In addition, your personal information and data help them to understand what kind of products are you using. Then what related products they can also produce for you?
For instance, they ask about your salary details and what car you are using. Now they can easily get data that how many people can afford cars. It will help them to decide on car prices.
These companies also pay money for taking paid surveys. Otherwise, why will you waste your time if somebody asks you these questions?
Here people easily take these online surveys because they are getting paid for it. This is a clear way to buy people's data using money.
It is also a completely legal and authorized business so you don't need to scare of anything.
They take care of your personal information very carefully. No one can misuse your personal data. Therefore, people easily trust companies and share their data easily.
Top Highest Paying Online Survey Sites to Make Money
You might be reading this article for the list of survey sites. However, I have given answers to many possible questions regarding paid online surveys above.
If you are already aware of all the common stuff about these surveys. You can directly come here to know the list of sites.
Here is a list of Online Survey sites to get paid:
1. Clixsense
Clixsense is the most trusted brand to get online paid surveys. Here you can make extra cash by taking different kinds of surveys.
Thousands of people are earning money by working on this site. You can easily register here with your email account.
You will get an email to confirm and then you can start earning. Most significantly, you can do many other jobs on this site to earn more money. For instance, playing games, watching videos, clicking ads, referring friends, etc.
In addition, you can also earn a good amount of money by referring clixsense. They pay you 20% amount of earnings on every referral.
As soon as your friend will start earning and makes the first $5. You will get $2 for that referral from clixsense.
Here is the second name Swagbucks. The second most trusted brand for paid online surveys. Here you just need to sign up and start earning money.
Here you need to complete surveys to get Swagbucks. These Swagbucks can be converted in real dollars later. You can also convert these Swagbucks units into gifts, cards, or cash, or transfer them into PayPal account.
Swagbucks is in the industry for more than 12 years. They have already paid more than 300 million dollars to their users.
Same like Clixsense, Swagbucks also has many programs to earn money. You can also earn here by referring Swagbucks to others.
In addition, you can also earn money here by searching the web and watching videos. You can invest your free time in completing surveys with Swagbucks.
If you are finding some real way to make some extra cash in your free time. You should try it because web search and watching videos are the most fun jobs to earn money.
Here is another player in the list. Lifepoints is a community of more than 5 million people. You can join here and contribute your helpful opinion to the world's largest companies and brands by completing their engaging online surveys.
Lifepoints allows you to submit your opinion and reviews to influence brands across the globe.
In return, they provide you Lifepoints that always turn into amazing rewards. The Lifepoints you will collect by joining their surveys can be spent on rewards of your choice.
4. InboxDollar
InboxDollar is another site to get paid online surveys and make money. Here you can initially get $5 with Signup bonus. After that, you can start taking surveys and submit your details.
The best part of this site is that you will always get cash for the surveys. That means you don't need to worry about converting rewards or gift cards.
You can easily turn your surveys into money by spending a few minutes on the internet. This is the amazing feature of inboxdollars.
I can't promise that you could become rich using these sites but you can still create a few bucks by spending your free time here.
Here is a special benefit for you if you are residing in US or UK. Inboxdollars provides better rates for those people. Moreover, you don't need to pay anything to join here. You can just start making money by registering with an email account.
5. MOBROG
MOBROG is another website which is providing paid surveys online. Here you can actively participate in market research, give your valuable opinion and make money online by taking part in mobile and online surveys.
On average, here you will get somewhere between $0.50 to $3 per survey. You can easily fill out the surveys here by using their online portal.
They will also send you regular notifications to take part in new surveys. They also tell in advance how much time the survey will take and how much you can earn by taking the survey.
There is no enforcement to complete the survey on time. If you are feeling interested in a particular survey, you can complete it whenever you got time.
Here is an advantage of MOBROG you can complete surveys on your mobile as well. They provide apps for android and Blackberry users to complete online surveys. This way you don't need to visit your pc to earn money.
MOBROG allows you to redeem your money through PayPal easily. They also promise to carefully and safely handle your personal data. It is because data protection is very significant for all of us.
6. PineConeResearch
PineConeResearch.com is another online paid survey website. Pinecone research is a trusted leader in voicing the opinions of consumers worldwide.
They say that your opinion is significant for manufacturers who count on people like you to help predict which products should be developed.
By completing their surveys, your opinions will directly influence tomorrow's product today. And, of course, you will get paid for that.
In addition, members will get points for each completed survey. Points can be redeemed for cash or prized easily.
7. Opinion Outpost
OpinionOutpost.com is the premium paid online survey community that allows users to take surveys online for money, points, gifts, and rewards.
Opinionoutpost aims to provide businesses with the best and most accurate information about their existing and upcoming customers.
The opinions you provide will spawn new marketing campaigns and product strategies from your favorite companies.
Joining to take paid surveys online with Opinion Outpost has major advantages. You will be rewarded through points here. You can easily buy things on Amazon or claim your cash using PayPal.
Moreover, you can also use points here to buy products on the iTunes Apple store. Opinion Outpost also automatically enrolls users into a $10,000 giveaway every quarter each time they take an online survey, meaning that members have a shot of making some extra cash in addition to points each time they participate.
Joining opinion outpost is completely free and it is the only online survey provider who is providing a $10000 giveaway each quarter every year.
8. Qmee
Qmee.com is another famous platform to get surveys and earn money. It offers users to share their opinions, shop, and search to earn real cash and rewards.
You can easily earn cash here except for swag or points. Qmee paid surveys to allow you to submit your opinion on your laptop or mobile easily.
You just have to share your thoughts for their brands and they will grow your earning daily.
You will also get saving coupons and offers from your favorite brands here. Qmee also helps you to find the best deals and save money while shopping online.
You can download the free Qmee browser extension on a laptop or pc. Then you can easily earn cash when you search for your favorite sites or brands.
You will get a panel in the left sidebar. Here you can share your search details for getting money.
9. Survey Junkie (Take Surveys Get Paid)
SurveyJunkie.com is the most popular online spot to earn cash and rewards for sharing your valuable thoughts and opinions.
Surveyjunkie is a free platform to take surveys and get paid easily. Here you can become an influencer to share your opinions for helping brands to deliver better products and services.
You just need to create a profile and it will find the best survey matches for you. As you complete surveys, you will get virtual points. These virtual points can be transferred to PayPal or eGiftcards.
Survey Junkie is the most popular online survey marketplace. Thousands of people are already earning here. However, as I already said above, these sites can't make you rich but you can make some extra bucks in a free time.
10. Vindale Research
Vindale.com is another platform for getting paid to take surveys online. Vindale is the most secure, highly reliable, and free survey site for anyone who wants to earn money online.
Vindale regularly adds hundreds of paid surveys on a daily basis. It already paid more than $6,000,000 to its members. You will get paid via check or PayPal which means no point system here.
They also provide laptops and mobile both options to submit surveys. It will ask you to share your demographic information. Then Vindale Research will match you to paid surveys.
You can check out for surveys by visiting your dashboard or you can opt-out of email notifications. This means that getting paid for your opinions could not be easier than this.
They pay $10 per survey for politics related surveys, $14 for an electronics-related survey, and $2 for fashion related surveys. They also claim that they are the highest paying survey site in the industry.
Vindale have a huge variety of categories for online surveys such as cars and trucks, home improvement, health and beauty, politics and current events, popular restaurants, shopping and fashion, sports, new technology, and travel and leisure.
Here Are Some More Paid Online Surveys Sites:-
13. Earning Station
14. VIP Voice
15. Panel PayDay
16. Ipsos I-Say Panel
17. OneOpinion
18. Toluna
20. OnePoll
22. Global Test Market
23. Panel Place
FAQ's About Paid Online Survey Sites
Here I am answering a few most common questions which can occur in your mind. These sites have many consequences that's why I am giving answers to frequently asked questions.
Do These Websites Really Give Money?
These are mostly legitimate websites. I have listed them after personal testing. It is completely true that these sites will pay you for completing surveys. However, it is not an easy task to get surveys and complete them.
Most of the time you might not get approval for a survey. They also provide a small amount of money. So don't think become rich quickly.
How will these online paid survey sites send us the money?
Most of these websites use PayPal to send money to their users. If you are new to online jobs, PayPal is the most trusted and valuable online money transfer platform.
You just need to create a PayPal account. Then anyone in the world can send money to your PayPal account.
Now you can easily transfer your money from your PayPal account to your personal bank account.
How much exactly I can earn from these opinion sites?
These sites really don't pay so much amount for completing surveys. You can sometimes earn a few dollars pee survey and you would earn a few cents.
It all depends on many factors like your location, profile, or other details. However, survey sites are good for those who want to earn some extra bucks in their free time.
They don't pay thousands of dollars easily as they show big numbers on their sites.
Conclusion
Finally, this post is going to close now. I hope you have got some best and most legitimate websites to get paid surveys online.
These sites allow you to submit your opinion and thoughts to help companies to build better products. They also pay you a few dollars to share your views with them.
There are many fake and spam websites in this industry. Therefore, I have collected these completely legit sites to get online paid surveys easily.
In addition, you can also read How I make $3767 a month from blogging.
Lastly, if you have found something useful in the post. Don't hesitate to share this post with your friends on facebook and Twitter. And please write your opinion on this site. How much you are earning from these sites or some other sites?