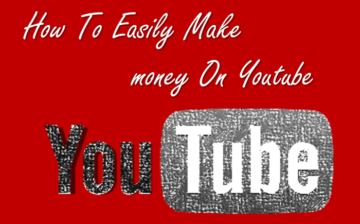 Easy Ways to Make Money Online on Youtube
Are you finding a way to earn money online? There are a lot of different ways to make money on internet. YouTube is one of the best way to earn money and being famous. 
Are you bored with TV shows and all? You can try to create a video show with 2 or 3 friends or record some funny or shocking videos from anywhere else. Go to YouTube and upload it. 
Normally you can upload a 15 minutes video on it. But later, You can also increase the limit. If you are a interesting script writer, Try something new make some small shows with your friends and upload it on YouTube. Who knows? 
If you will get lots of viewer for your video. You can earn lots of cash with that and may start a new career. 
Here are some easy and most popular ways to earn money on youtube.
1: Show Advertisement On your Youtube Videos
Google Adsense is the advertisement program for any blogger or youtuber. If you already have created some Good videos and you are getting a nice response from viewers. 
So you can easily apply for AdSense program on your youtube channel. Once it is approved, Now whenever someone plays your video on youtube.
 It will show an advertisement before starting the original video. You can choose from a different number of ads. As people will show the ads, Money will be added to your AdSense account.
Later, you can transfer this money into your personal bank account. It is the most preferred way to make money online through youtube.
2: Become A Youtube Star
Youtube have more than one billion unique users a month. People are getting millions of views and getting bucks according to it. Bhuvan Bum is a very good example in this field. Before a year, He was just a normal middle-class guy from Delhi. 
He tried his talent on youtube. He made some classic adult comedy videos and published on youtube. Slowly people loved his comedy shared his video a lot. 
And he is getting millions of views on his videos. Now he is a professional YouTuber. So guys, try with whatever you can do the best. I wish you may be the next Youtube personality.
3: Make Money with Affiliate Marketing
Affiliate marketing is another way to earn some money with youtube. You need to choose the right product selling company like Amazon, Ebay, Register for their affiliate program and create a nice and attractive video about that product. 
Put the referral link in this description section of the video. After this, You will earn pay per sale on the product. The referring amount may be varied according to different companies pay scale. 
4: Increase Your Website/Blog Traffic by Youtube
If you are running a blog or a website on any niche. You should create a youtube channel immediately to increase your traffic. In addition, you can create videos related to your blog posts and upload it on youtube. 
You will get more organic traffic from youtube too. It would be the most precious way to grow your website traffic. 
Some people doesn't use google as their primary search engine. Those people may also find your blog with the help of youtube videos.
5: Create Video Tutorials 
You can also try to making some tutorial videos on computer software, Photoshop, mobile software system or any other tech related issues. 
There are several numbers of software available in the market, which will let you record your computer screencast video. You can also make videos on specification and comparison of mobile phones. If the people will like your videos, it will go viral and you will good a number of views. 
As your Youtube channel will be viral and you have millions of subscribers. You can also create sponsored videos for companies and show them at the start or the end of your videos. this may be a great way to earn some extra income.
So keep your video camera in your hands and record immediately when you see any dramas, shocking or hilarious moment. Just record it and upload it on youtube. 
Conclusion
There are many categories in which you can create videos and earn money. You just need to become a consistent youtube creator.
In fact, making a successful youtube channel is far easy than blogging.
God knows who will be the next youtube star. Maybe your video goes viral and you are making the big amount of money.
If you really love this article, Make sure to share it on facebook.