What Is Amazon Affiliate Program?
Amazon is the world's most popular online store. The number of people is using Amazon increasing day by day. If you have a blog or website, you can easily earn money using amazon affiliate program.
You have to advertise about amazon products on your site and amazon will pay you up to 15% commission for it.
There are some bloggers who make thousands of dollars with this amazon affiliate program, but the question is how to earn money with amazon affiliate?
You just have to place the amazon affiliate link to products on your site. If people will visit your site, they will see ads for any product.
If they want to buy it, they will click on the link and directly visit amazon and buy the product. Amazon will pay you the commission for this sale.
But for all this money making game, you have to own a website or blog. You can make a blog on any niche depends on your area of knowledge.
You can write original reviews of amazon products and share your experience with others.
So that, people will get the great knowledge to buy any product. If you still don't have a blog. First thing is to create a blog.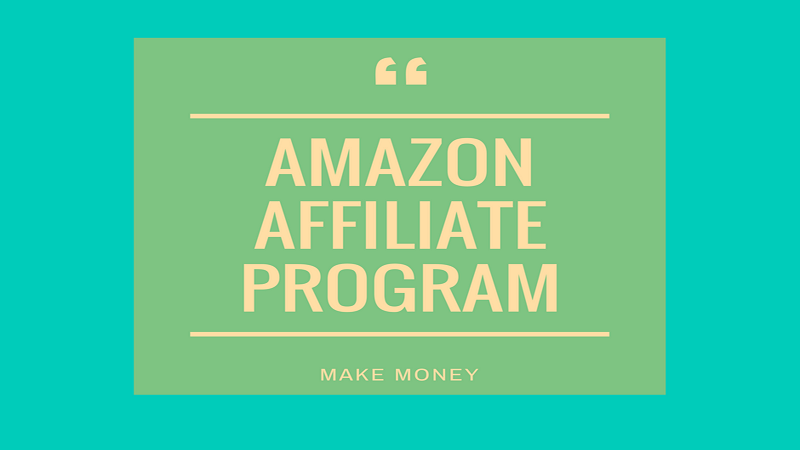 How to earn money with Amazon affiliate?
Start A Website/Blog
To start a blog, you just need 15 minutes. After that, you can start writing blogs and articles.
I will give you a brief knowledgeable post to start a money making blog. There are two types of blogs on the internet.
First, You can easily create your blog by creating a new account on blogger.com. This is a totally free plan.
Another way is buying a premium domain name and hosting plan. This will spend some of your money but it will worth it.
Create A blog with Blogger.com For Free And Join Amazon Affiliate Program
Blogger.com is the best way to create your blog for free and post your advertisement links. You go to blogger.com first.
Find a link called a new blog, click on it and register your details and the process will be done in some minutes. Now creating your blog is done.
Then you can design it with some custom coding if you want. Now write valuable content for your readers. More interesting articles will catch more readers easily.
Write a blog every day to gain loyal readers on regular basis. people don't go on some blogs where no one is writing new things.
So write at least 2 blogs every week if you can't do it daily. Make your audience on a regular basis so that you can create a huge number of visitors on your blog.
Create Your Own blog with Paid Hosting Plan to Become Amazon Affiliate
If you want to make your website with your own domain name and hosting plan. This is the best choice instead of a free blog on blogger.com in terms of features.
Because free blog on blogger.com will give you a limited number of features. In your paid hosting plan, your website name will be yourname.com but in the free blogger plan. Your website name will be yourname.blogger.com.
It means, with the paid domain and hosting plan, you will have more professional website or blog.
DOMAIN: 
It is the name of your website. A domain name is registered website name. You can choose any name suitable of your choice.
However, you have to pick a domain name which is not already registered by any other blogger or website owner.
For example, You can't choose your site name as google.com, Because that is already registered website on the internet.
Now choose as a name which describes your idea of blogs and reviews on your site.
It is a space where your all files and website content will be saved. It is a server space you have to buy from the market.
There are lots of companies which provide hosting and domain plan. I would highly recommend BLUEHOST.
It is most recommended company for hosting services. The most important part is that you can buy a hosting plan and you will get a domain name for free. isn't it so easy?
Register for Amazon Affiliate Program
It is necessary to register on Amazon affiliate program according to your audience specific country. If you have mostly audience from India.
Then you should register for the affiliate program for India, go here and register. If your visitors from the U.S., then you should visit here and register.
Read all the information regarding the affiliate program carefully. you should read how to post, what products you can advertise on your website and what is the commission for each and every product category. How would you get paid and what are the payment methods?
Now you have to find the on option JOIN NOW FOR FREE. Click on this option and fill out your details and website address. After the successful registration, they will verify your details and then you can get links to post on your site.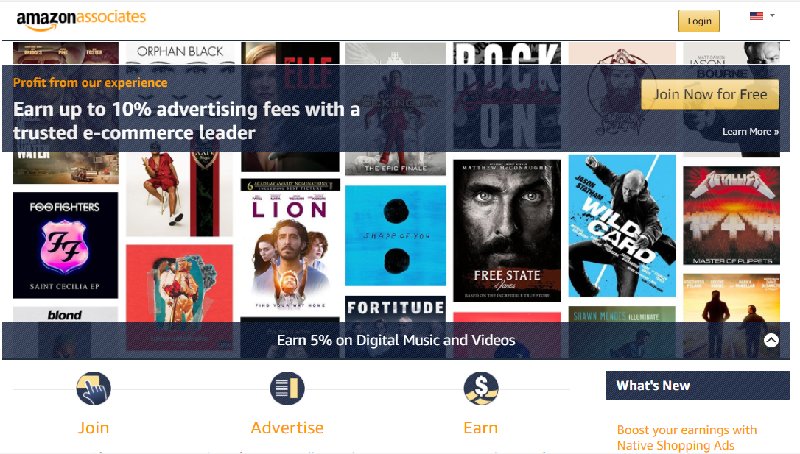 Amazon Affiliate Product Links on Your Site
Now you can simply log in to amazon affiliate website and get products link. You can choose links, banners or widget to post on your website.
Now everything depends on your site. you have to gain visitors to your site by posting reviews or blogs regularly. You can choose products depending on your site's niche.
If your blog is about fashion and accessories then you can post ad links to clothes and garments. If your site is about is about gadgets and technology, then you should post ads to mobile phones and laptops etc.
There is a huge amount of money, people are making by Amazon. But this is not a nightmare which will become real after making a blog only.
This is not a process of one day, two days or one-two weeks. It is a bit long process to gain trusty visitors to your site. Don't try to make fool by giving false information about products.
Conclusion
Write reviews always on behalf of your own experience. Give real information to people so that they will become your trustworthy users.
Also Read: How to Make Money Online on the Internet.
If you are still facing problems with registration on Amazon, feel free to comments on your concerns and experience. If you like this post, just share it on facebook and twitter.