Do you want to watch ads for money? Are you really interested in getting paid to watch ads only? Then you are at the right place because here we collected 10+ best apps and sites to help you to make some extra cash by watching and clicking video ads.
And more importantly, first, let me clarify that this list does not have any fake websites or apps to earn money.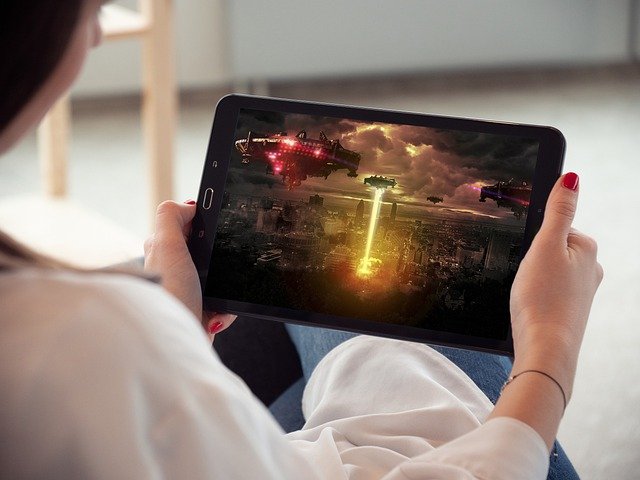 Do not worry about spam because we have collected the original websites and applications that can help you to earn real money just by watching ads and completing some interesting online surveys on your device.
These apps have some amazing features other than just watching ads you can play games, learn maths, solve puzzles, and many other things too. Surveys will help you to gain more knowledge.
In this list, you will get to see some well-known apps as well as some unique and rare apps to earn money.
Top 12 Ways to Watch Ads For Money
These are the top 12 apps and websites to earn money while watching ads on your respective device.
1. AdWallet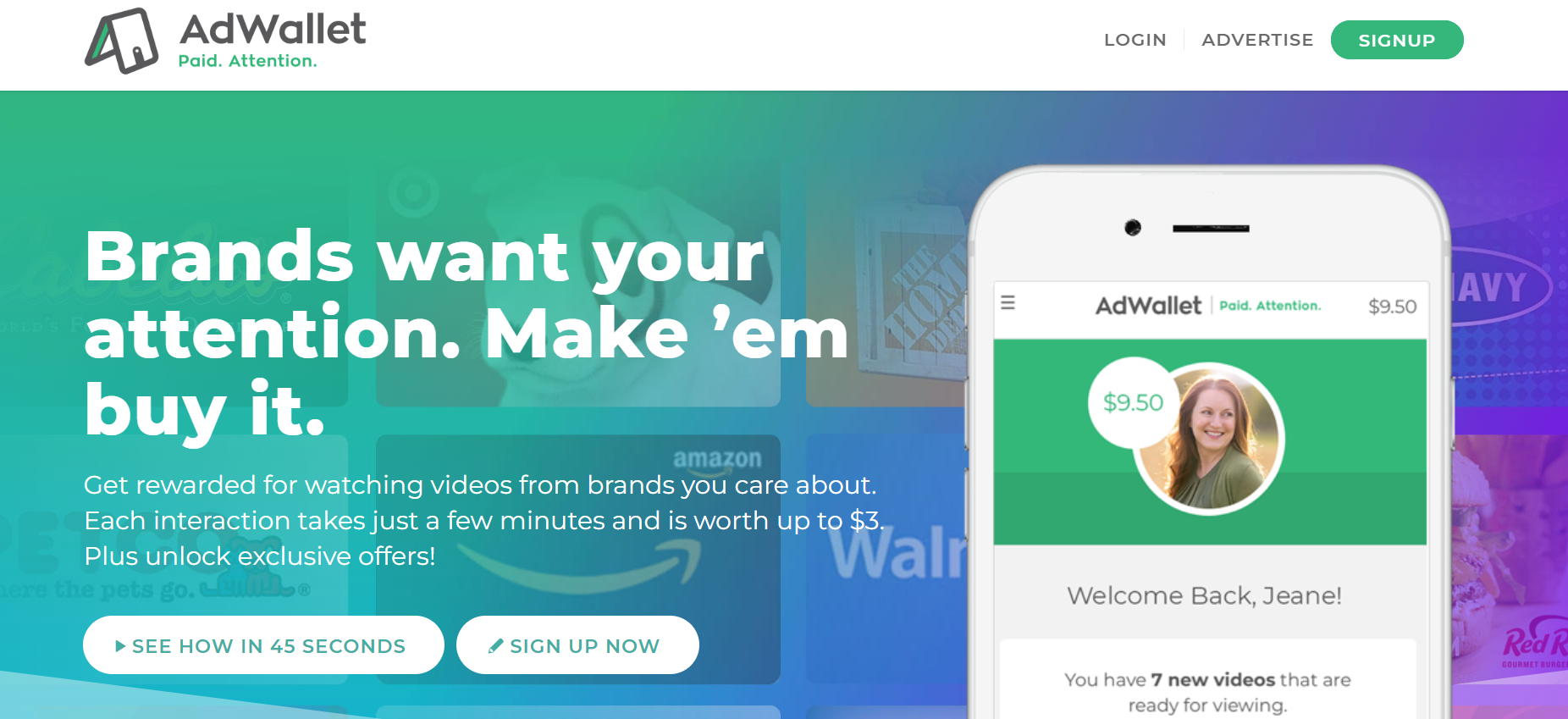 If you are looking for a website or platform where you can earn money by just watching some video ads then check out this amazing website called AdWallet.
Make an account on the website by just clicking on the SignUp button in the top right corner and start earning money from now.
You can earn up to $3.00 by watching only one video ad. You will get an additional $1 when you refer any of your friends and they start using this app.
When you will complete $10 in your account then you can take out cash from the app to your respective bank account or Paypal account. Adding to this you can use these points to get gift cards related to Amazon and other e-commerce websites that are available on the list.
2. Earn Cash & Money Rewards (APP)- CURRENT Music Screen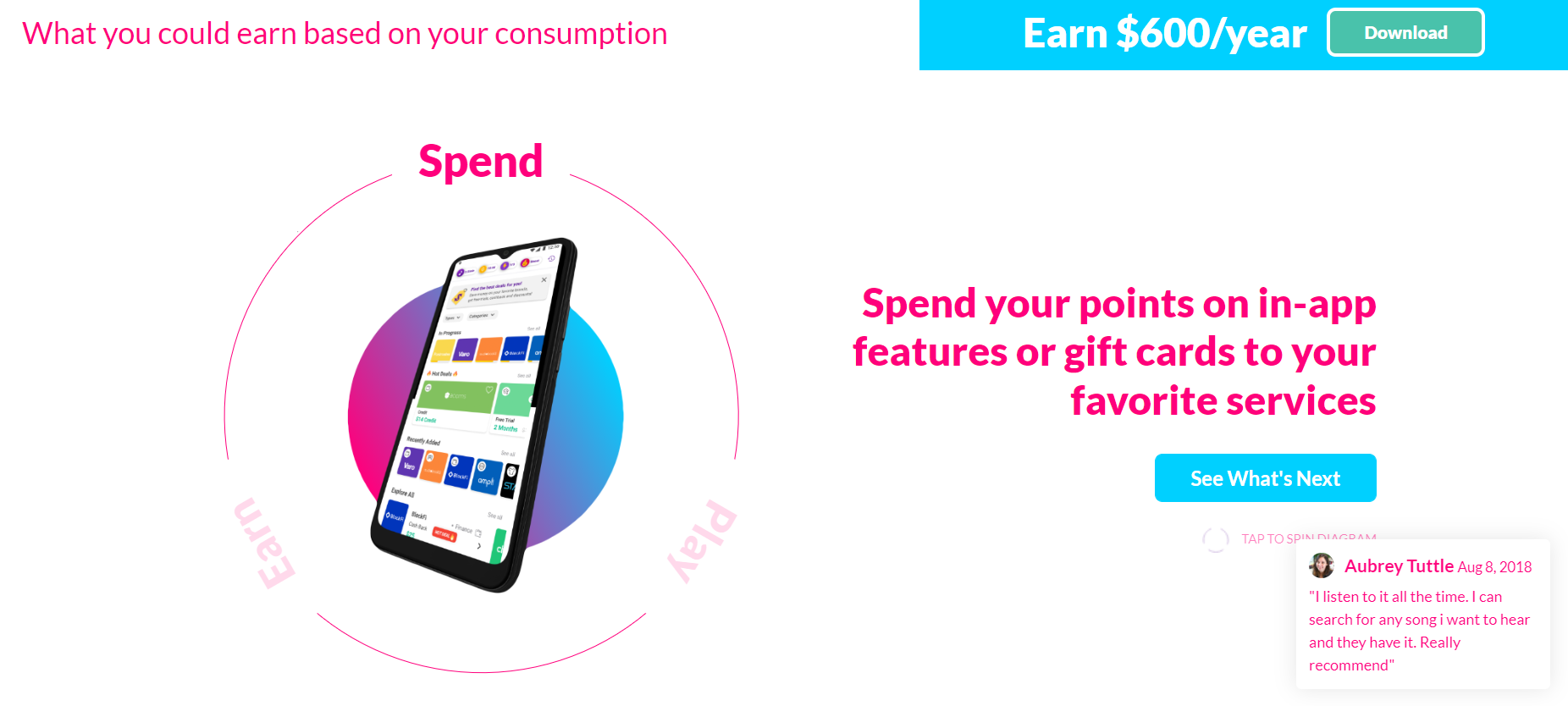 As the name suggests you can earn cash and money by just listening to music. I think there is no one who does not love to listen to music. This app has more than 100k radio stations which will provide you with different genre songs.
You can also earn money while doing some surveys and getting advertisements also. Earn Cash & Money Rewards App has more than 100k installs and still counting. This app has scored a very good number in ratings and reviews.
It has 4.4 overall ratings on the Google Play Store.
So whenever you will play music on your smartphone you will earn money by getting ads in between.
3. IRazoo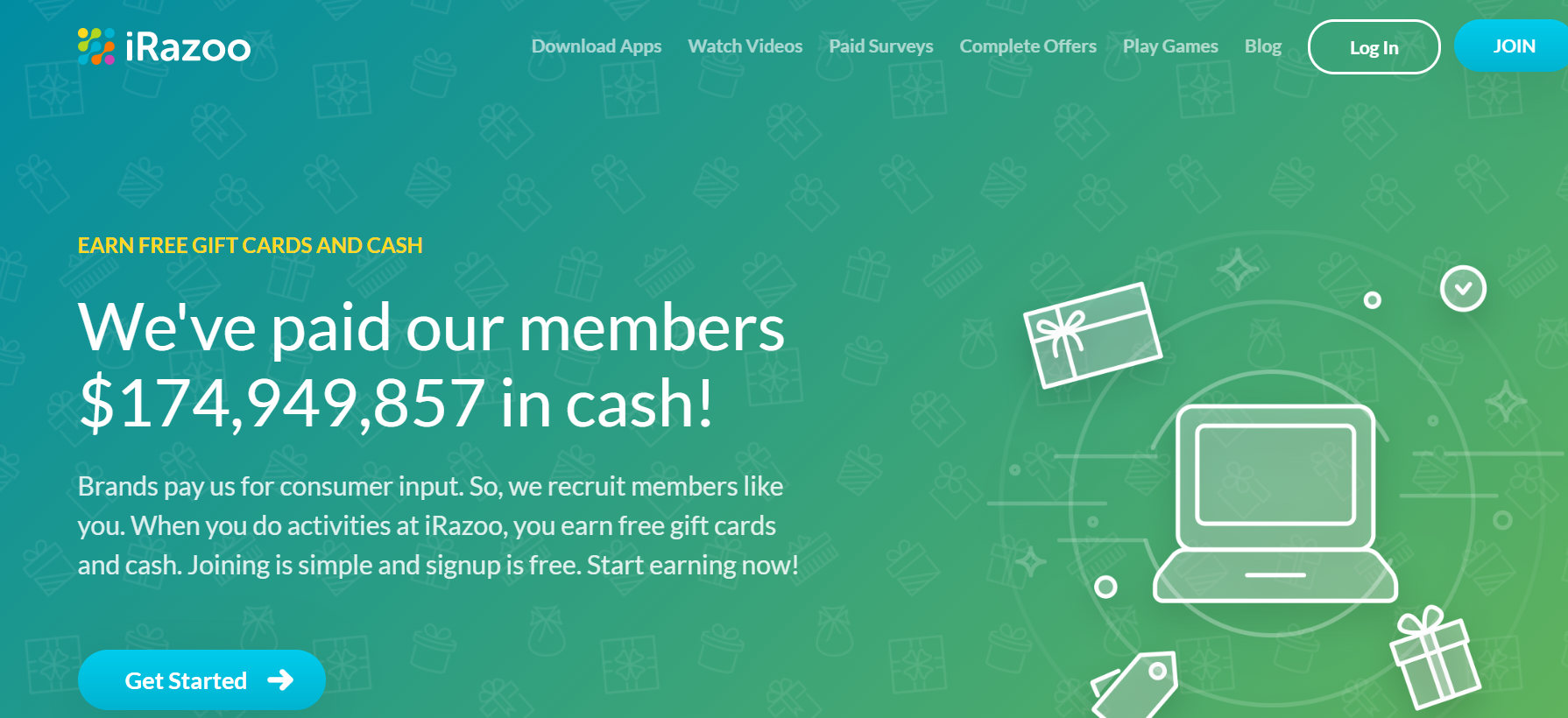 Go to iRazoo and make your account today because they are giving a good amount of money after watching video ads and playing games on their mobile applications.
By creating an account on the iRazoo, you will get 100 points for free. Adding to this you will get extra 500 points whenever any of your friends join iRazoo with your invitation link. You will earn more and more when your referred friends refer their own links to others. So it's a win-win condition for all of us.
4. Slidejoy

Slide left, right, or Up to earn money. Sounds easy? Yes, it is very easy.
Install Slidejoy app from Google Play Store or from their official website. After installing the app you have to lock your mobile screen and then you will be able to see some ads like in the attached picture above.
So what you have to do is just swipe left, right, or up according to your choice and points will be added to your SlideJoy account. You will be having multiple ad options depending on your interest.
This app has been featured on multiple well-known websites like TechCrunch, CNet, CNBC, and other trusted publishers.
5. Ibotta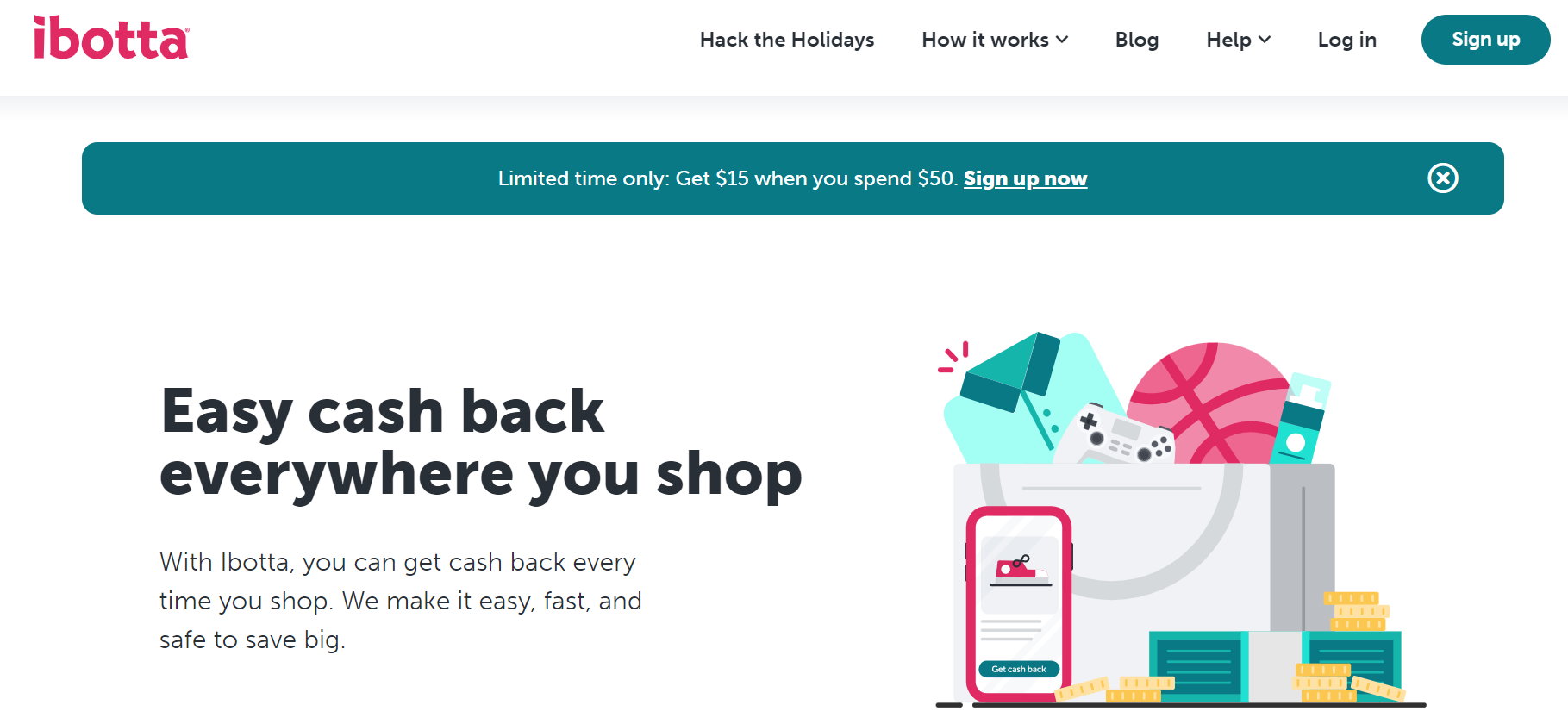 Shop your daily needs from ibotta and earn cashback on every purchase from this app. There are so many things that we purchase on a daily basis. It means you can earn cashback daily.
Later, you need to watch a simple ad to redeem your money. There are so many well-known brands associated with ibotta like Walmart, Target, Domino's Pizza, Booking.com, and so on.
Just browse your item in the app, purchase them, add your receipt in the app after watching a video ad of approx 30 secs, and get cashback. By just installing the app you can earn $20.
6. Make Money | BIGtoken Cash App | Surveys & Prizes

The BIG token app will help you to earn money by completing some surveys in the app. You can also earn money while watching ads in the app itself. What you have to do is just scan your receipts and earn money.
There are some new methods to redeem your points into money. You can send your money directly to your Paypal as well as to your Xbox account.
You can earn money from the following methods here:
Earn money when you check in your locations
Complete the survey and earn money
Link your social media accounts and get points to redeem
Refer the app to your friends and earn more money
Watch ads and add some more points to your account
BIGtoken Cash App has more than 100k installs on Google Play Store to date and this app got 3.4-star ratings that are not a bad thing. 3.4 is quite a good rating.
7. CashKarma  Rewards & Gift Cards App
CashKarma offers you to complete surveys, collect gift cards, and earn money while watching ads and completing surveys. This app has been installed by more than 100k users and people are installing it day by day.
Coming to ratings it has scored 4.5 stars overall ratings. So it is a very good app and you can easily install it on your smartphone.
8. WowApp – Earn. Share. Do Good
WowApp is a free app on Google Play Store and you can earn money just by watching videos.
You can also earn more by completing the survey, and other methods that are available in the app.
Once you have enough money to redeem from your WowApp account then it totally depends upon you whether you want this money into your account or else you want to donate this money to a charity running on the app itself.
You can earn money by performing various methods in the app:
You can earn money while chatting with your friends in the app
Unlock your phone by sliding the unlock button on the lock screen and add more money to your account.
You can shop on this app and earn more cashback and gift rewards
Refer this app to your friends
Watch ads and get more money.
WowApp has more than 1 million downloads on Google Play Store. Coming to reviews and ratings it has scored 3.9 stars out of 5 stars.
9. Unicorn – Watch Ads And Win Money (App)
This is a new app in the list that is growing and users are loving it. This app has more than 2k installs but the app has scored very well in the ratings. The user interface in this app is very much illustrated so that every user can understand the app easily and earn money without any high technical knowledge.
In order to earn money, you have to perform the following steps.
Install App
Send your referral code to your loving friends
If your friends share any post or video via this app on Facebook then you will get straight away Rs. 10
You can watch ads and answer questions to win more money
You can transfer money directly to your bank or UPI address
10. Math Cash – Solve And Earn Rewards App
If you are good at maths and solving a simple math problem then you can easily earn money from this app. What you have to do is just solve maths questions and collect points in your account.
There are different methods you can use to earn more money like dual-mode, guess-n-win, survey tasks, and watching ads also. The app is fully free to play and you can redeem your points once you reach the minimum cashout limit.
By referring to your friends you will earn more money. So what are you waiting for? Just install this app and send you an invitation link to your friend.
This app has a very good interface and one can easily understand the interface. App has more than 1 million installs and it has collected a good amount of reviews and ratings.
11. Make Money – Free Cash Rewards App
Make money by just clicking on ads and installing new apps on your mobile. Invite your friends so that they can also earn money and you will also earn more. So if you are looking for an app that has high earning chances then this is the app that is for you.
You can payout your earned money directly to your PayPal account. This app is used by so many people around the world.
You can earn more points by watching ads in the app. The app is a very good installation number and it has crossed more than 1 million installations.
12. SweatcoinWalking Step Counter & Pedometer App
What can be easier than anything for you to earn money while just walking? Looks weird? Yes, you can earn money while walking with this app. Just walk and earn money. You can add more points and money to your account by seeing some ads in the app. After clicking on some ads you will get money after a short interval of time.
There is a catch in this app, this app is in early access so whenever its beta will be closed then you can install this app or you can try its beta phase.
SweatCoin has more than 10 million installs and 4.5-star ratings on Google Play Store. This app works on a pedometer to count the footstep you have completed in a day.
Pros And Cons Of Using These Apps
Pros
Income in free time – You will be able to earn money in your free time. During your free time you can earn a good amount of money.
Easy to earn – These apps and websites have illustrated user interfaces so that everyone can easily understand and earn money. There are no requirements to use these apps forever.
Less Expensive – Usage of these apps and websites is very less, one can say negligible. You just need a smartphone and a good internet connection that's it. You don't need any high machines and gadgets to use these apps.
Instant Money – As soon as you complete any given task you will get money instantly in your account. There will be no paperwork or any delay in your payment.
Different methods to earn Money – So many methods are available in these apps like you can play games, participate in surveys, install apps, and obviously watch ads on smartphones.
Earn from home – To earn money there is no need to go out of your home. You can earn dollars by just sitting on your couch at home. Turn on the internet on your smartphone or computer and earn money.
Secured Payments – Worried about payment security? Do not worry these apps and websites have secured payment methods. All of the websites and applications are trusted. So you can use these apps without any worry.
Multiple Payment Methods – Some of you may not have Paypal or other online payment methods, but do not worry you will get multiple payments like Paypal, bank transfer, Skrill, and other online ways.
Cons
May some of these apps are not available in your country
you will get less amount of money for each task, so you need to complete many tasks to make big amount
FAQs On Watching Ads For Money
1. Is it safe to earn money from these apps?
Yes, it is totally safe for you to earn money from these apps.
2. Which app gives the highest-earning opportunity?
Honestly saying we cannot assure you that it is the best app that has the Highest earning app, but these are the best out of all the apps on which you can earn the highest money by watching ads only.
3. Do these apps are trustable in order for my data security?
Yes, all apps are trustworthy and you can use these apps without any worry.
 4. How much can I earn from a single ad?
It totally depends on the upload user preference. If you have enough time to spend more time on this app.
Final Verdict
So these are some of the best apps and sites where you can watch ads for money. By clicking on ads, you will earn more money. In addition, you can also play games, complete various tasks, fill out feedback forms, earn points, and earn rewards to earn money here.
So try to do the work from home and earn money. If you have so much free time and you want to make it productive then you can give a try to any of these resources to make some extra bucks.
However, these methods can help you to make some extra bucks but it is hard to make a living this way. If you really want to make money online, you should definitely try Blogging which is the most reliable method to earn passive income online.
I hope you guys liked this post, don't forget to share this with others. You can also follow us on Facebook and Instagram to get the latest updates to make money online.