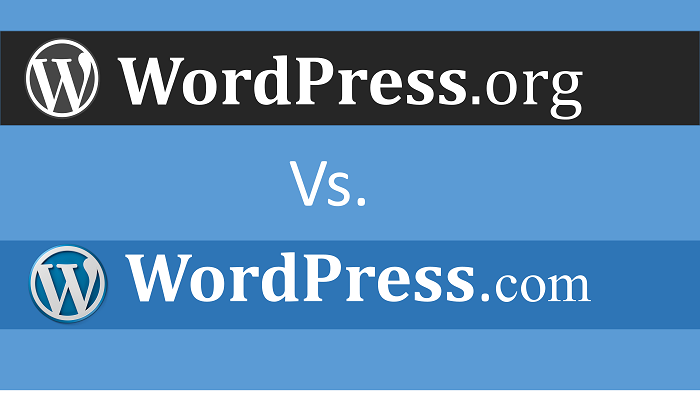 Self-hosted WordPress VS. Free WordPress blog
When a person starting a new blog or website. The first thing comes in mind about choosing the best blogging platform.
If you are creating a blog for just fun, a personal diary or just want to write for sharing. Then Blogspot, WordPress.com or tumbler are most popular and free blogging platform with easy to understand.
However, this is just myth that people start blogs for hobby. The main reason behind every blog is to create an online business and earn online income.
So if are truly creating your blog for business purpose or to make money online. It is very important to go with WordPress.org (Self-hosted WordPress site).
What is WordPress: WordPress is a blogging platform made by Automattic. It is cms(content management system) based on PHP and MYSQL. WordPress giving a brilliant blogging platform to its users since 2003. WordPress has multiple features for your website such as changing your theme and plugin features.
WordPress.com Vs. WordPress.org: Which one to choose?
There are two type of WordPress programs you may choose. WordPress.com is a free blogging platform. You can use it to create your beautiful personal site.
And WordPress.org is a paid but professional service. WordPress.org is available only when you some hosting plan by any hosting company.
We would like to suggest you to choose WordPress.org because it is more benefecial option rather then a free site. We are describing below in detail.
Bluehost is the most successful hosting provider to create a website on wordpress.org. You can easily install and start your wordpress website using bluehost hosting.
WordPress.com
WordPress.com is a free blogging platform which allows creating your own website for free. If you register on wordpress.com so you will get a website address of your own name. eg., Yoursitename.wordpress.com.
 It is a type of sub-domain hosted on the Wordpress server. You are not able to create your own website name ( eg., Yoursitename.com) with this free hosting free service.
This is a disadvantage of this free hosting server. However, it is suitable to those bloggers who want to make a blog for sharing their writing, or just want to be the presence online for fun.
Why you shoud not choose wordpress.com?
It does not allow you to create your own site name like yoursitename.com, It gives yoursitename.wordpress.com.
It does not allow you to download third party WordPress theme templates. You have limited themes to change your blog design and layout.
It does not allow you to download third party plugin.
WordPress gives hundreds of ads on every free WordPress blog. And they don't pay money to you for those ads. In fact, if you want to remove those ads from your site then you have to pay them.
If you want to publish ads on your wordpress.com site and want to earn money then you need to show 25000 pageviews per month.
WordPress keeps full control of your website on their hand, They can delete your full site if they seem anything wrong or against their terms.
These are the reason why you should not choose wordpress.com blog platform for your business or money making blog. But, It is still using by thousand of users who don't need to build a serious blog.
WordPress.org
WordPress.org is a self-hosted blog platform is totally professional blogging platform for those who want to make money online, increase their business or want to sell products online.
Nowadays, many companies are offering one-click installation of WordPress into your blog. You need to just select a good website hosting service provider.
Hostgator, Bluehost, and Godaddy are some most popular Hosting and domain providers.
WordPress.org gives you complete control to your website and will remove all limitations of wordpress.com,  and offers you many features.
Why you should choose WordPress.org
You are able to create a custom theme or install a third party theme.
Here you are easily able to upload third party plugins to give your blog more features.
You can monetize and publish on your website and easily can earn money. Adsense, Affiliate marketing or any other way you can sell on your blog.
It is super easy to use.
You have everything from your website. Your all data is safe to you. No one can delete your data for any kind of personal violence ( until you are not doing any illegal activity on your blog).
You can easily track custom analytics on your blog.
What is Best Finally?
If you want to create a blog for personal use. You are sharing things but do not want to display ads and earn money by your blog. Then should go with WordPress.com.
If you want to be a professional blogger and want to make a career in blogging then you have to choose WordPress.org.
Self-hosted WordPress site will cost you money, But it will give you more than money. It is actually cheaper.
If you will make a blog with wordpress.com and want to buy an own domain of your name. It would cost you more money than WordPress.org.
We will always suggest you go with WordPress.org, it will give you full control of your site in your hand.
But the final decision is in your hand. ;) Here is the complete guide to installing WordPress after buying the hosting plan.
We hoped you liked and understood our point of view towards WordPress Blogging platform. If you liked it, kindly share it with your friends on facebook and twitter.
And don't forget to subscribe our newsletter to get instant updates on wordpress.