21 best website traffic checker tools to analyze the exact traffic of any website.
These tools are the best in the industry to know the traffic statistics of any site. In this new era of competition in digital marketing and SEO, you need to be very smart to grow your website.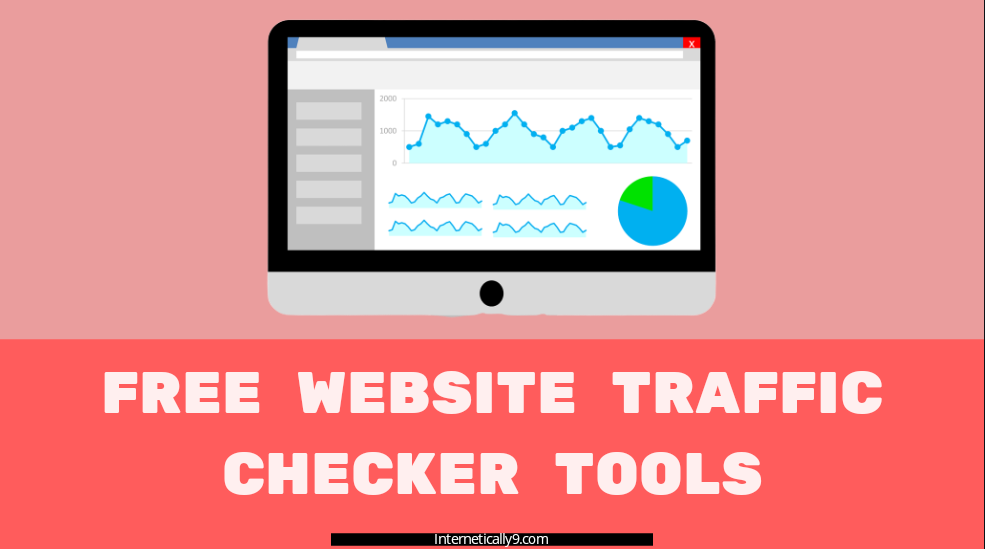 These traffic checker tools are so helpful to enhance your target audience. The more you know your audience, the better you can serve them.
There are thousands of bloggers and website owners who are keen to know the traffic status of their competitor's website. It is very helpful to beat the competition.
Why You Need to Check your Own Website Traffic
Every blogger or website owner works for their audience. Every product or content will become successful if it reaches its audience.
If you know who and how many people are visiting your website, you can easily understand that what content is getting more audience attention.
You can also understand that what kind of ads and products you can sell to your audience. This way, you can better understand your viewers and provide them better content.
More specifically, these website traffic analyzer tools also tell you that which pages are sending you the major traffic.
You can also understand that which keywords are bringing traffic to your site. So that you can make your content more specific and keyword-centric.
The most accurate and trusted tool to estimate your own website's traffic is Google Analytics. It tells you the exact traffic coming to your site by many sources. It also tells you the region of traffic with specific time limits.
Here you can easily understand How to Check Your Website Traffic Using Google Analytics.
Benefits of Checking Competitor's Website Traffic
To check your own website traffic, you can easily use Google Analytics. But you can't track other's website traffic using this tool.
That's why I have introduced here the 21 best resources to check the website traffic of any website in the world.
If you are trying to rank on some specific keyword. You can check the traffic of some websites from the search results the first page. This way you can understand that how much traffic you can also earn by that specific keyword.
You can also estimate how much your competitors are earning with their particular number of traffic. For instance, some bloggers publish their income reports publicly.
By knowing their traffic stats, you can also get an estimate of income by that much traffic in their niche.
You can also get a particular report of daily, monthly or yearly users and sessions of your competitor's website.
It is really a big myth for many bloggers to know the traffic stats of their competitor's site. Today, I am giving a huge list to tackle this situation.
Most of the tools from this list are free of cost although some of them have paid plans to give you more clear stats of traffic.
So without wasting any more time, here is the list of the top 21 website traffic checker tools.
1. SEMrush: Best Website Traffic Checker Tool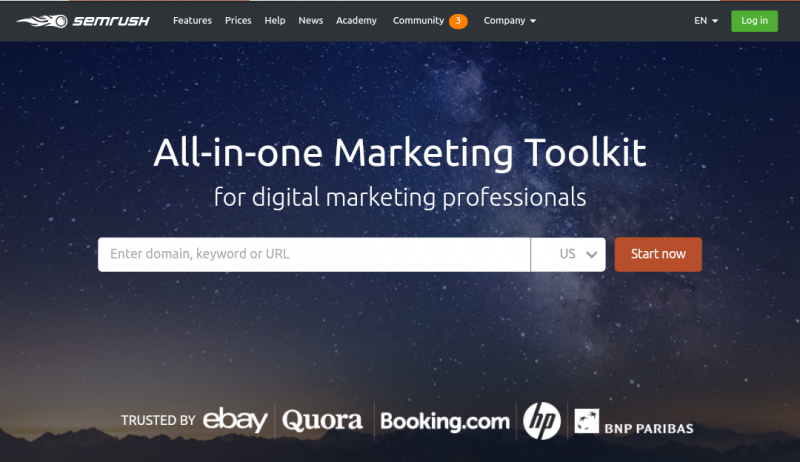 Are you looking for a single tool to fulfill all your SEO wishes? Semrush is the best SEO tool in the whole SEO industry.
You can get exact traffic estimates of any website. Except for traffic stats, it has enormous features to get all your backlink details, income estimates and it generates a complete SEO plan for any website.
You can analyze all stats of any website here. Semrush has hundreds of beneficial features. In fact, I can't even count them all in this tiny post. For that, you need to visit semrush and find different tools to optimize your site.
To check traffic of any website on semrush. You need to just log in there with a single email account. Then you can easily put the URL there and can see the complete overview of that website.
Although Semrush is a premium SEO tool, you can use it for 10 free searches as a new user.
To get a free 7-day trial on Semrush, you can click on this link.
2. Alexa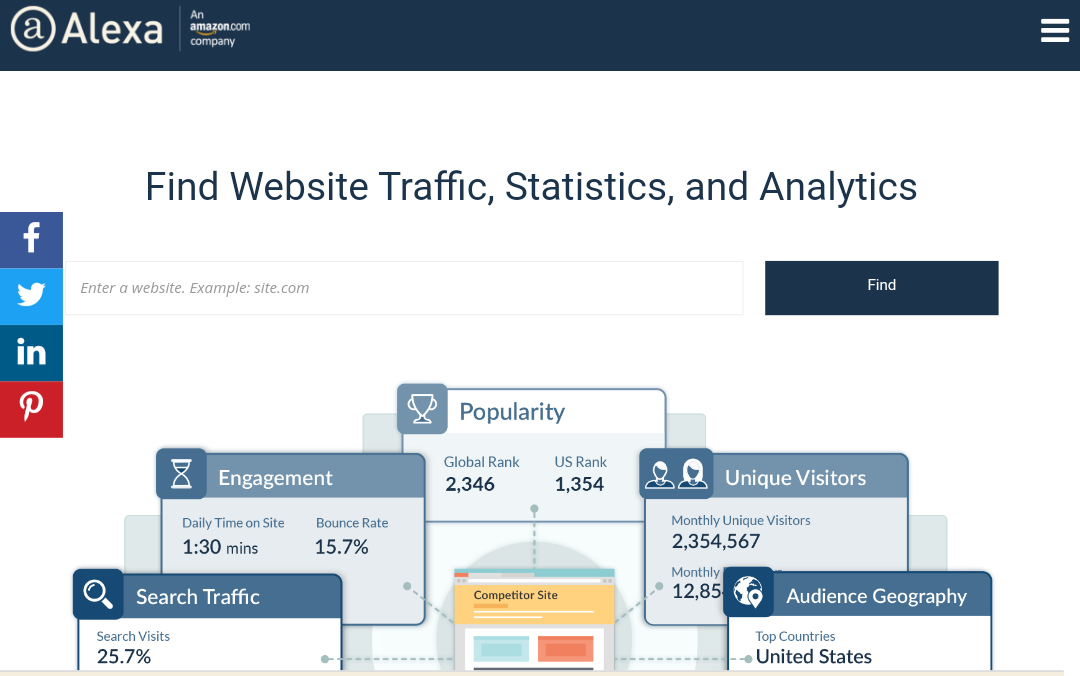 Alexa is a giant website to analyze the worldwide and nationwide rank of any website. It has a free feature to estimate the rank of any site easily.
Alexa is the most trusted and valuable tool in the world. You can get a clear idea of website traffic stats using this tool.
Free users can see a traffic rank, which countries are sending most traffic, bounce rate, per day Pageviews, which keywords are sending most of the traffic, and the most relevant competitors of a website.
They have also a premium plan to unlock all the tremendous features. However, most of the people use its free version to get most of the information about any site.
You just need to visit Alexa.com and put the URL of any website and you can complete an analysis of that website. You can easily get daily page views to estimate the traffic of any site.
3. Ahrefs: Most Accurate Website Traffic Checker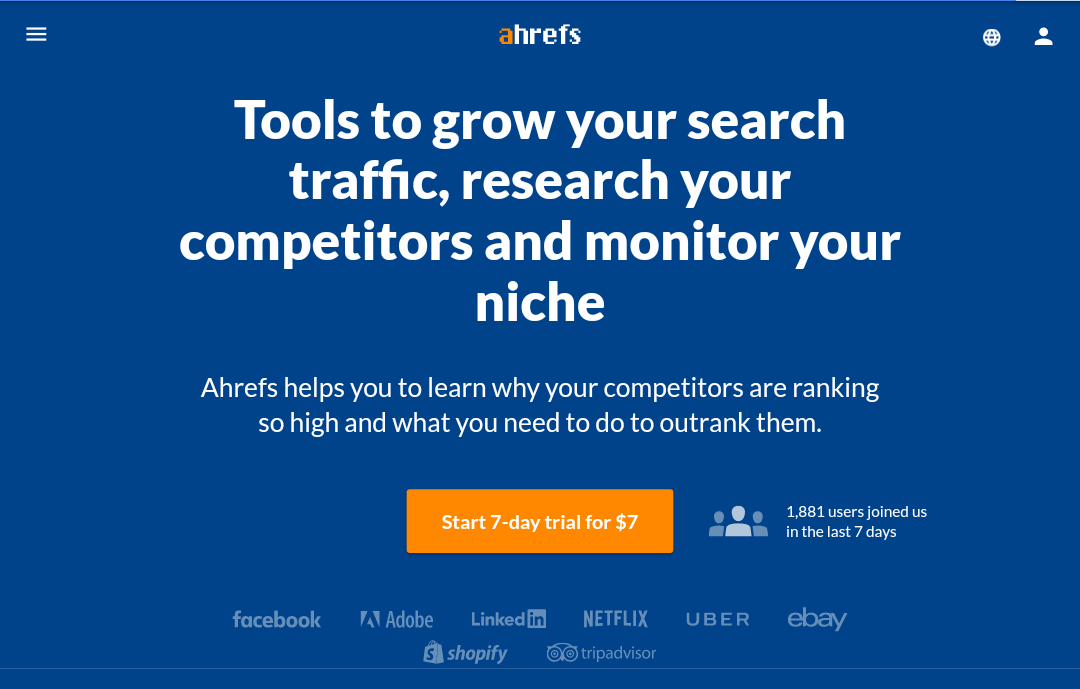 It's another website traffic checker tool on the list. Ahrefs providing great services since 2011. Ahrefs is a great tool to grow your search traffic, research your competitors and monitor your niche.
It teaches you to understand why your competitors are ranking so high and What you can do to outrank.
You can create a free account here to get few details about website statistics. Moreover, they have premium plans to give you all the details of any site.
You can analyze traffic here with complete data and stats. Ahrefs has data of 240 million keywords inside the united states alone + over 100 more countries.
So that you can get accurate data to analyze which keywords are sending the most traffic to any site. It will help you to analyze all the traffic coming to a website.
Ahrefs runs the World's largest index of live backlinks. Their bots crawl 4 billion web pages every 24 hours and they update the data every 15 minutes.
4. Similar Web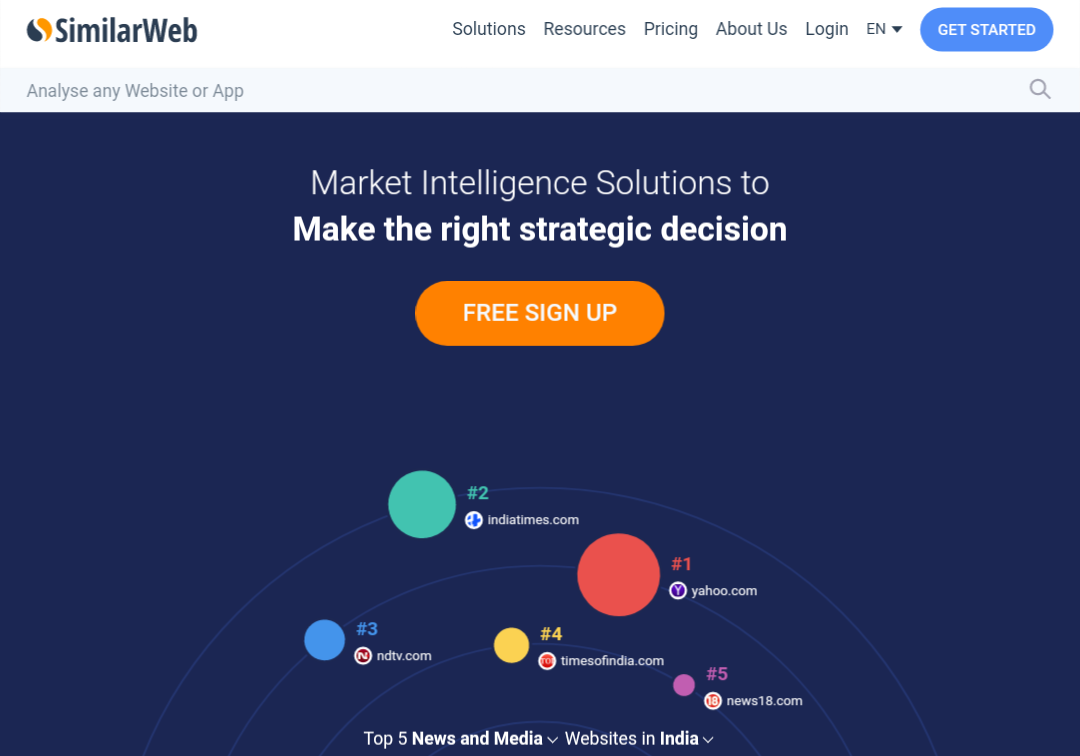 SimilarWeb is another website on the list to estimate the traffic of any site. Why I like it most because it gives you an exact estimate of any site's earning. It is super easy to use and it provides all the traffic reports in few clicks.
You just need to visit the website and put the URL of any website and you can easily get a note on Pageviews, bounce rate, referring links, and social media engagement.
It is also the best tool to give you an accurate ranking of almost every website. It gives you an exact idea of rankings. Every website stands on a unique rank in the world. It can make it easy to identify the popularity of any site.
5. SE Ranking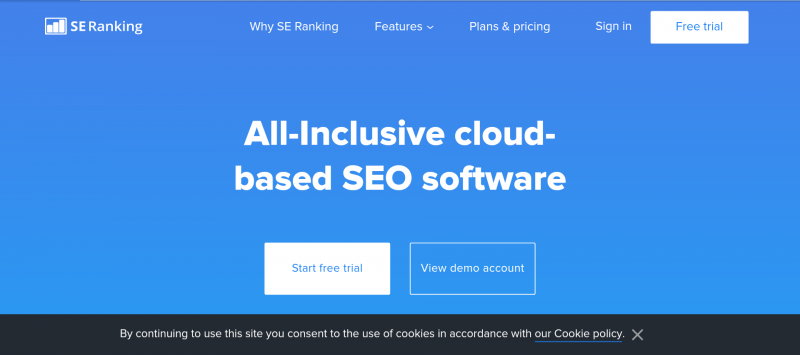 SE Ranking is a great tool to check the traffic of any site. You can easily get traffic estimates by visiting this site. Here you can get traffic estimates of any site for free.
Their free version is easy to use with more accuracy. You just need to visit their website and put the URL and you will get all the information easily.
You will see here page views, traffic cost, ranking keywords, and much more. It is the best tool to get all the information for free. You can also subscribe to their premium plan to access more beneficial features.
6. Google Adwords Display Planner
Google ad planner has changed its name to Google AdWords display planner. Here you can know that how much traffic is website is getting exactly.
Google AdWords display planner has been made by 3 adjoined tools such as contextual targeting tool, placement tool, and Google Ad planner.
As you know, Google is the largest network to provide the most accurate data. Google has a name in itself and people trust its name.
Google AdWords display planner is the most secure and true platform to analyze estimated website traffic.
I personally suggest Google AdWords display planner which is totally free to calculate traffic for any blog. I always use this tool because Google is the most trusted brand in online businesses.
Video Tutorial For Using Google Adwords Display Planner To Check Website Traffic
Google Adwords display planner might become a little bit tricky for newbie users. Actually, it has many features to help people with targeted ads. That's why sometimes you may find it difficult to work with this tool.
There is an official solution to this problem has been provided by Google itself. Here is the link to the video created by Google Adwords to explain to you how to calculate website traffic of any website.
7. Rank 2 Traffic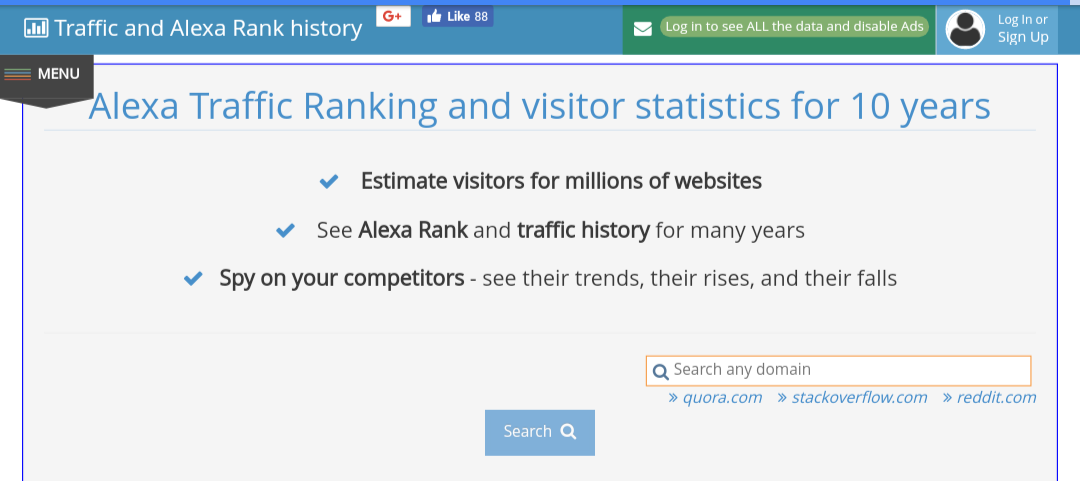 Rank2Traffic is another resource to know the traffic of a website. Rank2traffic is created to provide Alexa traffic rank of any site and visitor statistics for the last 10 years.
It has a enormous feature to spy on your direct competitors. You can see their trends, their growth and their falls. It generates a graph to understand traffic overview for past 10 years.
Rank2traffic analyze visitors by country for any site. It will also show you the source of your traffic. For example, search traffic, direct traffic, or some contextual links are sending the traffic.
More specifically, it shows you how many visits your site is getting daily, monthly, and yearly.
8. My Site Wealth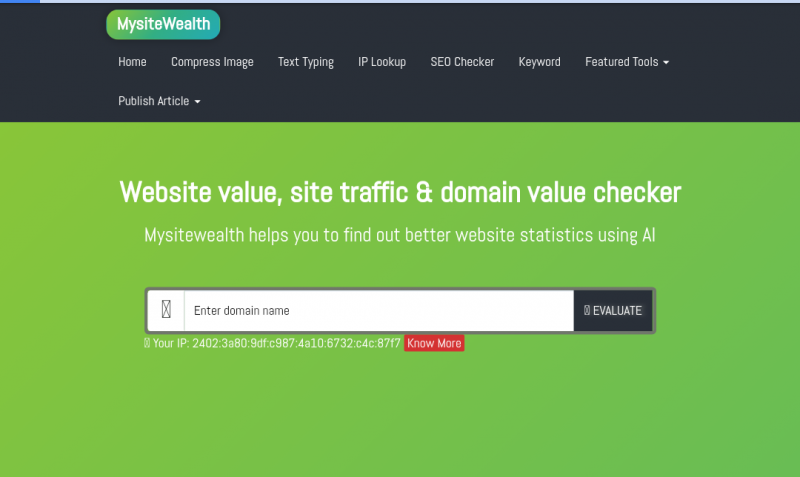 MySiteWealth is another platform in the queue. Basically, here you can estimate the worth of a website. It tells you the estimated cost of the website after analyzing many different aspects.
Here you can also find estimated traffic of any website. It will make it easy for you if you are going to buy a site or going to sell your site. It also helps to understand the page speed of your blog.
You can also check domain authority of every site here. It tells you the traffic with daily, monthly or yearly Pageviews data. It has also a comparison where you can compare multiple urls simultaneously.
MySiteWealth also tells you backlinks data, access to geo IP location, and information on what pages are indexing on Google. These tremendous features make it unique from others.
9. SpyFu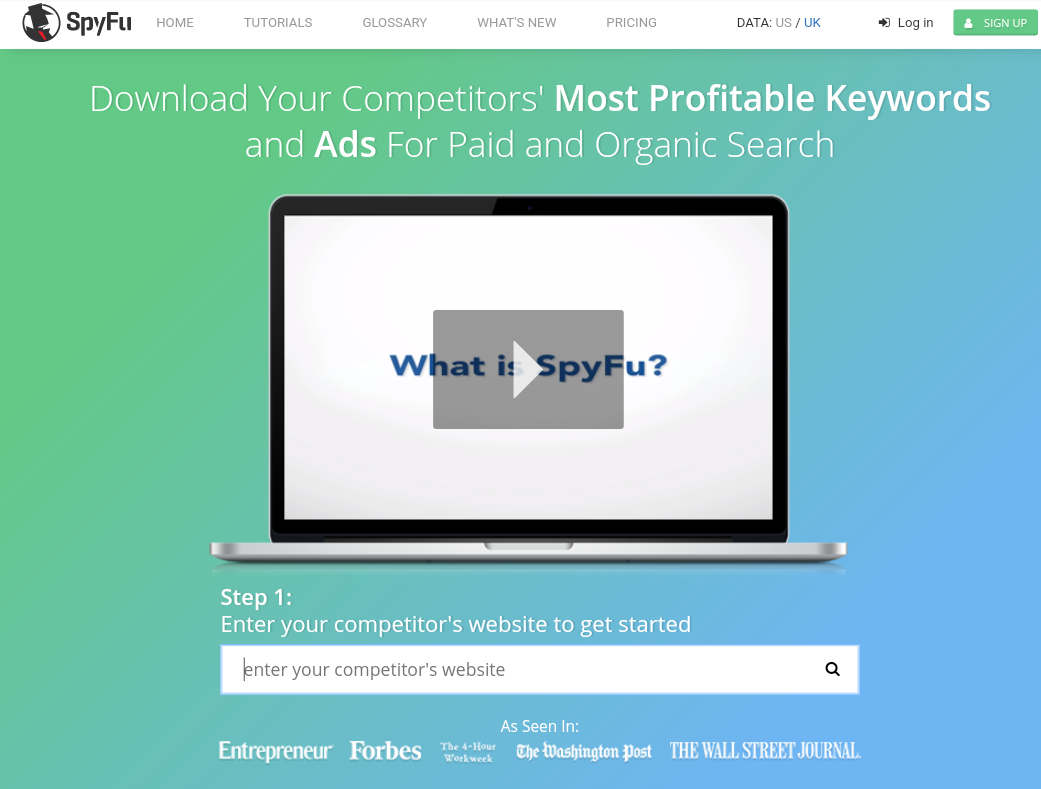 SpyFu is another SEO tool in the list. It has many amazing features to help online businesses and individuals. SpyFu exposes the search marketing secret formula of your all the successful competitors.
Search for any domain and see every place they've shown up on Google: every keyword they've bought on Adwords, each organic rank, and each ad variation of the last 12 years.
These are some most amazing features of SpyFu
Easily find most accurate website traffic data of any website in the world.
It helps you to manage adwords campaigns with different analyzing tools.
You can easily get what keywords are sending traffic to your site.
You can also visit your competitors best working keywords.
Overall, This is also one of the best tools to estimate the traffic of your website and go ahead towards the success of your online success.
10. QuantCast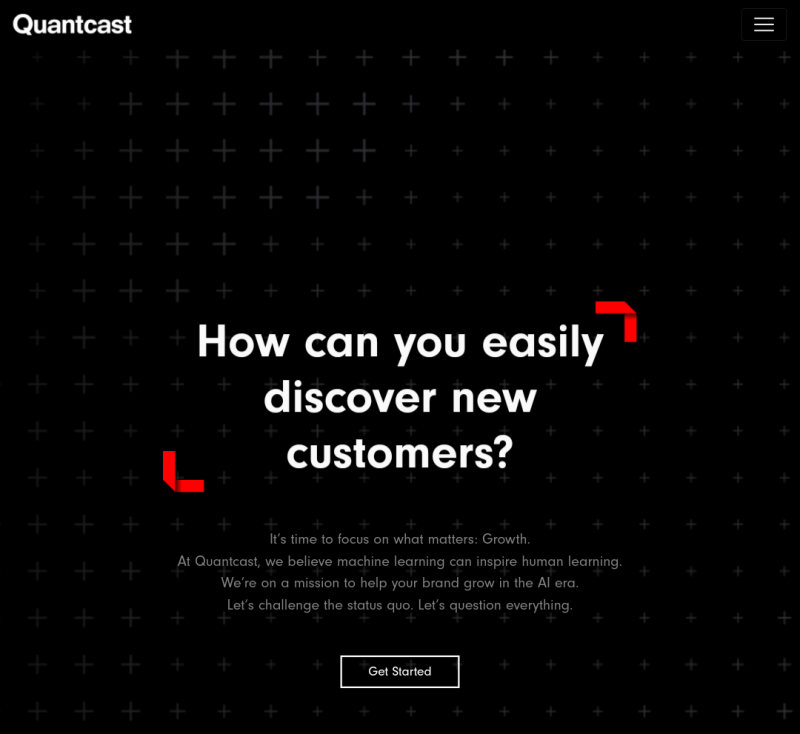 QuantCast is one more source of calculating the estimated traffic of any website.
It is a leader in artificial intelligence technology and all its applications for many big brands, agencies, and publishers.
It always helps site owners to know their audience with accurate, multi-dimensional granular insights.
Their free program provides deep real-time insights about who your audience is, what encourages them, and how they are spending time across your properties.
Quantcast is another best tool for all the bloggers. It is working for the community for more than 10 years. This website traffic checker tool is best in itself.
11. BuySellAds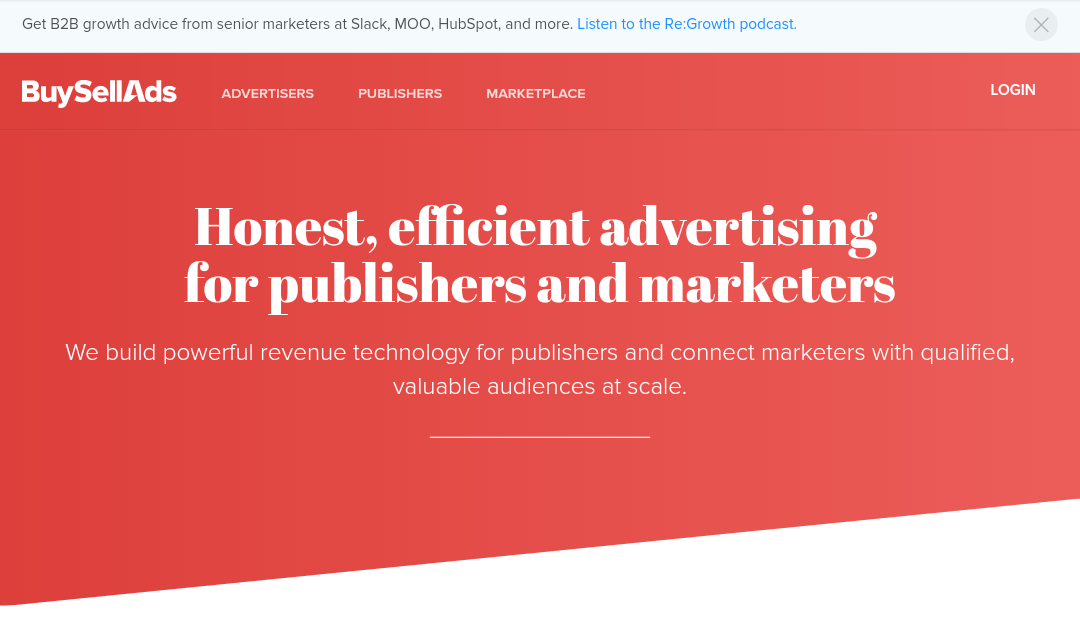 BuySellAds is an alternative of Google AdSense. It is one of the monetization platforms which offers you to display ads on your site to get paid.
Many people who can't get approval on adsesne work with this platform and earn thousands of dollars.
As this tool is for advertisement industry. It also provides you a great SEO tool estimate traffic of any Website.
Buysellads shows the estimated traffic of a website selling ads using buysellads. It is a loophole of this tool. However, to know the more accurate traffic data, you can click on the Your Ads here banner which is pointing to buysellads.com
Finally, when you are trying to find the accurate traffic details of any site. You might get different results with different tools. That's why I trust on most trusted brands. I will tell you my personal recommendation also in the last.
12. SitePrice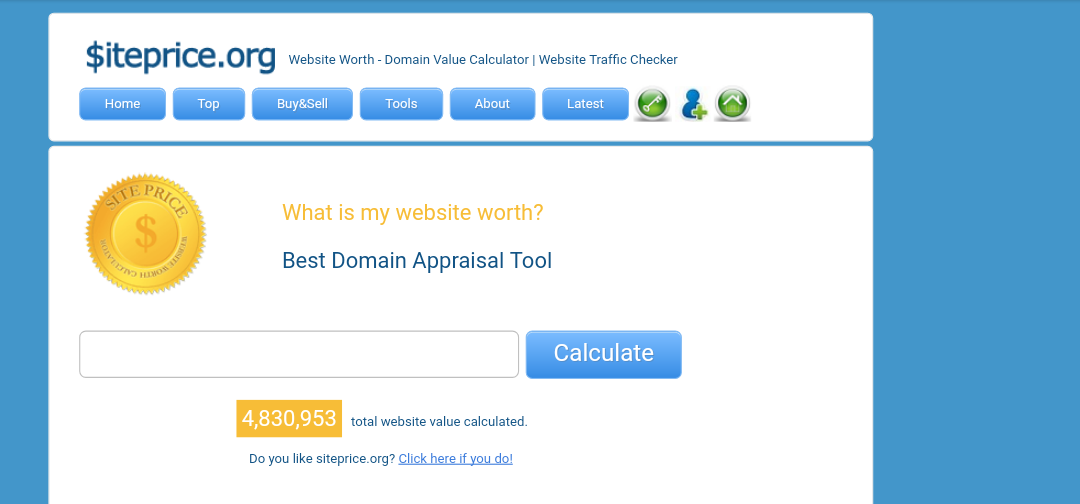 SitePrice describes itself directly by its name. It is specially in the field of calculating worth of a particular site. However, it has also many other great features such as website traffic checker.
You just need to visit siteprice.org and you will see a box to enter url. Enter url of any website and it will take around 1 min. of time to show the results. I think it is the most annoying thing.
After that, as results will come on your screen. It will show you many statistics about the site such as daily unique visitors, daily pageviews, avg. time on site, daily ads revenue, monthly ads revenue and much more.
13. PR News: Free Website Traffic Estimator Tool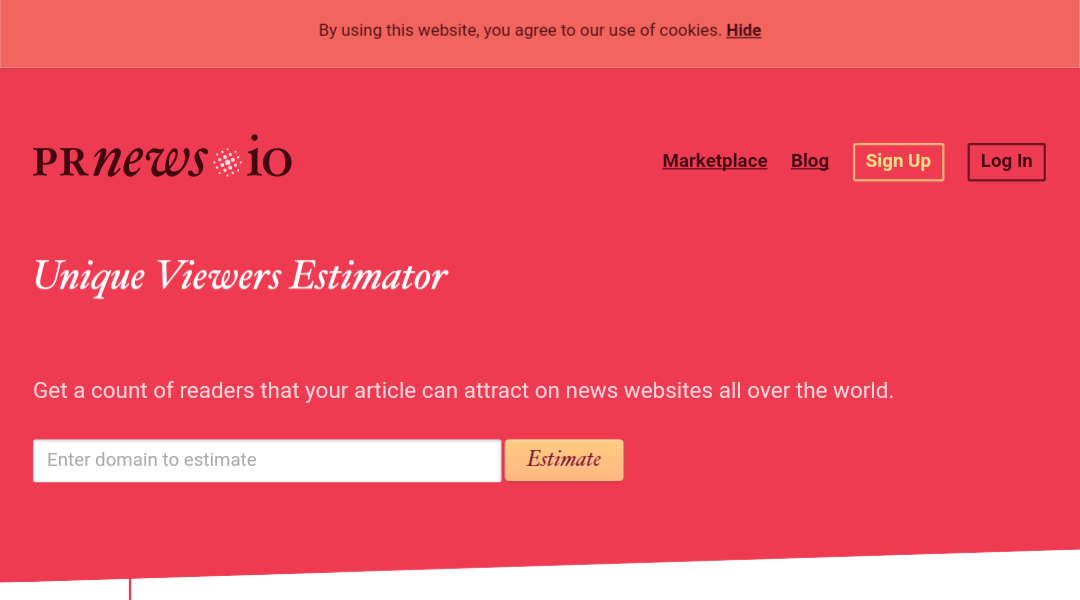 PR News looks like a news site by its name. It is not a news website while it is another traffic checker tool of any web page.
It is an estimator tool to estimate traffic on your blog post or sponsored post. Its main goal to predict the traffic on your sponsored post.
It helps many businesses to understand how many people are reading their posts for which they have paid.
This site is so useful for any mobile app, products or blog. You can check traffic of different digital platforms.
14. SiteWorthTraffic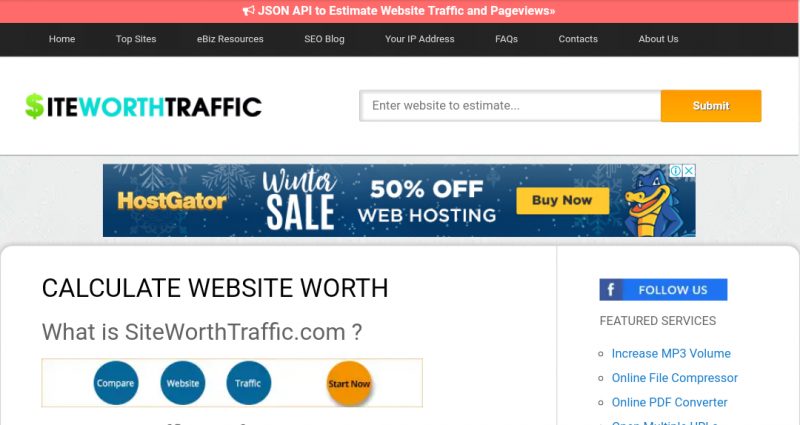 SiteWorthTraffic is a simple and easy-to-use website to calculate the estimated value of your domain and traffic stats your website.
It is also one of the best websites to know how many visitors are visiting a site. You will be able to know daily, monthly and yearly Pageviews and users.
You can also identify that how much percentage of traffic is coming from Google, Social Media, or any other external links.
It is a completely free tool designed to quickly calculate the website worth and worldwide ranking of any blog or website. It also shows the site's Alexa stats, last shared links on social media, country where is located the web server, IP address, monthly earning, and yearly earnings.
Here you don't need to register yourself to use this tool. Everything is free here and you can get many different stats here.
15. Worth Of Web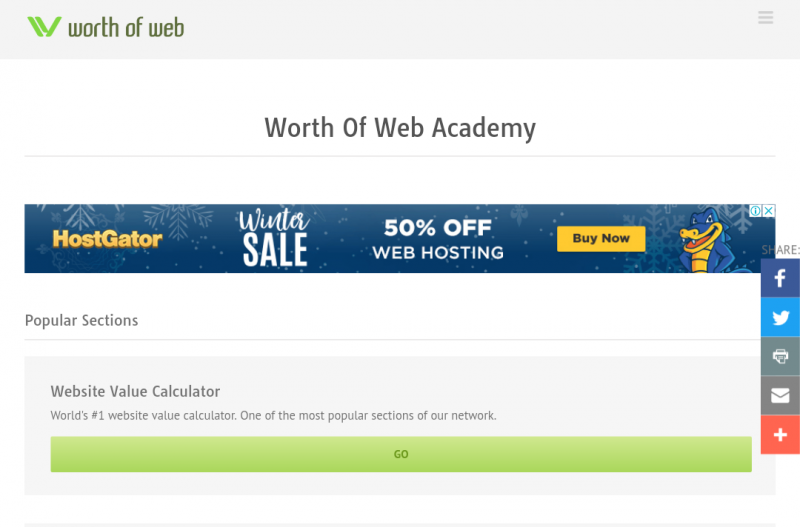 WorthOfWeb is totally helpful website to estimate the value of any website. It estimates the value of your domain and also tells you how many pageviews a site is getting daily, monthly, ans yearly.
Ranking of a website factors:
Estimated Website Worth: They calculate it based on their estimation for daily, monthly, annual revenue.
WOW Score: They calculate it based on traffic figures they used.
WOW Rank: They give it a rank based on WOW Score.
Nevertheless, I feel that this tool calculate all the visits done by bots too. That's why its stats doesn't look like real. But if you are finding some free tool to do the research. It can be easy to use tool without any hassle.
16. Traffic Estimate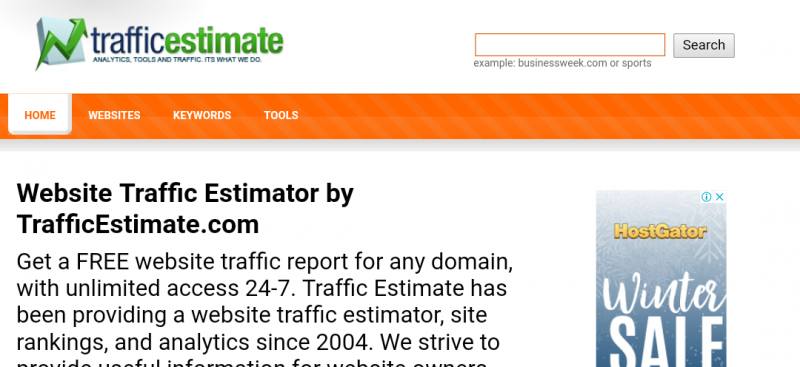 TrafficEstimate.com is another tool to estimate the traffic of any website with few simple clicks. You just need to visit this website and enter the url and you will get all the stats related to traffic.
You will get a FREE website traffic report for any domain, with unlimited access 24-7. Traffic Estimate has been providing a website traffic estimator, site rankings, and analytics since 2004.
They strive to provide useful information for website owners, domain buyers, and SEO gurus. You can use this traffic estimator, check statistics, and monitor data on just about any domain.
See how to drive more site traffic, track competitors, compare websites, view related keywords, and increase your web traffic footprint by using their SEO tools, stats, and partners.
FAQs About Website Traffic Checker Tools Of 2019
I hope you are having few questions in your mind regarding these website traffic estimator tools. Let me discuss some most common questions about these SEO tools.
Q. Which one of these tools is the Most accurate for checking the website traffic of my own site?
I know that many of you want to know the exact traffic of your website. Let me clear that if you are asking about your own website. You should always refer to Google Anlytics Tool. It is the most accurate tool to get exactly how many page views are coming to your site.
Q. Which tool is the most accurate SEO tool to estimate the traffic of your competitor's websites
Now we come to calculate the traffic of your competitor's site. Here is trouble because every SEO tool shows a little bit different data from others.
However here are the most trusted and traditional sites working in this industry. Most of the big bloggers recommend these tools.
These tools are some of the most recommended SEO tools by many large SEO scientists. I also personally prefer to use Semrush over all the other tools.
Q. Can we trust 100% on these website traffic checker tools?
This is the most common question in all of our minds that these are the 100% accurate statistics. Keep fix in your mind that only a website owner can tell you the exact traffic of his/her website.
Nevertheless, many SEO giant companies such as Semrush, Alexa, or Ahrefs invest lots of money into data mining and artificial intelligence. And they provide their complete services only to their premium users.
Therefore, we can say that these giant tools can provide us 95% of accurate data. I think it is enough amount of accuracy to beat the competition for our business.
Final Thoughts on all These Website Traffic Checker Tools
So finally I want to end this post here because I don't want to bore you by reading this much.
Lastly, I hope that you have got enough website traffic checker tools to analyze the statistics of all the websites in the world.
I have shown here most of the free tools to use. However, if you can afford a premium plan so definitely you should buy a premium plan of SEMrush to access all of its features. It is because I also use this tool personally since more than 4 years.
I really feel that this is the best SEO tool in the industry because it does not only take care of SEO rather it also provides you a project-based system to create valuable backlinks for your blog.
It refines most related sites in your niche, finds a dead link on their sites, and designs a request mail for outreach.
Using this tool you can easily create thousands of quality backlinks to enhance your site authority.
I can also provide you a link here to get a 7-day free trial of the Semrush premium version. If you will not like it. You can easily unsubscribe the service without paying anything.
Lastly if you really feel that this post was a little bit helpful. You should share this post with your blogger friends. And do not forget to leave your favorite SEO tool suggestion in the comment box. 
Don't Skip: 
1. Top Content Writing Services For Websites: Best Place to Find Cheap Blog Post Writers
2. Bluehost Discount Coupons India: Save Upto 90% + Free Domain in 2019
3. Best Ways to Learn Python- Top 10 Resources for Beginners
4. How Much Traffic Does A Website Need to Make Money
5. 5 Blogging Resolutions You Should Take For 2019