Have you ever heard about get paid to lose weight? Yeah, it's true that you can get paid to lose your own body weight. It is actually an uncommon way of making money online.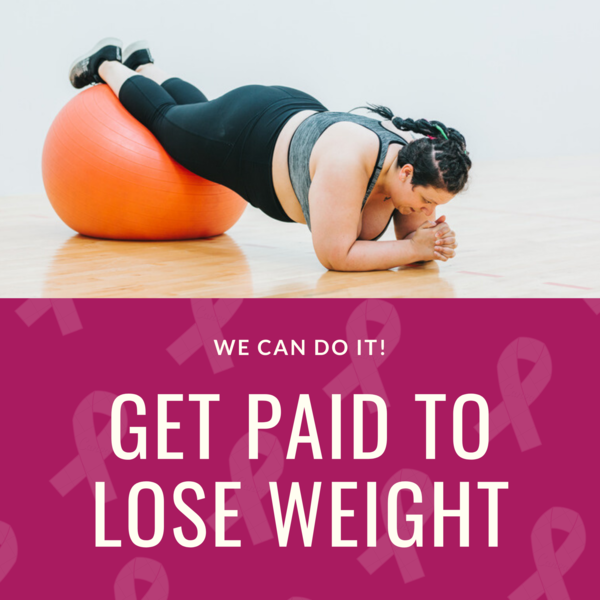 Losing weight is one of the most talked-about topics in the world. People try various kinds of exercise, diets, gym, yoga, and gadgets to lose weight.
Some lose weight by following the diet only but some people are not able to lose weight after a strict diet and gym plan.
What if someone pays to lose your body weight? Sounds interesting? Yes, there are apps and websites, with the help of these platforms you can get paid to lose weight.
Everyone has different motivations in their life to lose weight. Some do it because they want to wear attractive attire. Some people lose just to look beautiful and some to get rid of some health issues. There are so many people who can do the same just for money too.
You can install the following apps and websites on your mobile phone to lose your body weight and this will help you to get paid to lose weight.
In this list, we are going to discuss the top 7 apps and websites which really pay you to lose your body weight.
Get paid to Lose Weight by Using these top 7 Apps and Websites
These sites are totally genuine and already paid thousands of dollars around the world. Here we collected the only genuine sites and apps so that you never get into any fraud.
So without wasting more time. Let's reveal the list of sites to get paid to lose weight.
1. HealthyWage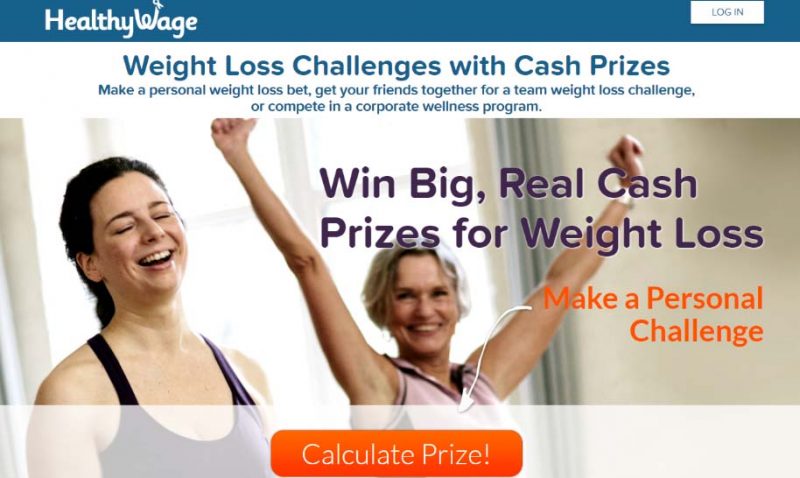 HealthyWage is a mobile application that can help you to lose weight and get paid by doing the same. You can set your own set of exercises to earn as much as you can. There is a long list of exercises that you can modify accordingly.
Coming to reviews and feedback from the people around the world who have used this app. This app has some amazing features that can ease your exercise. There is another thing that you can do to earn a big amount of money.
To earn a big what you have to do is you just need a team of 5 people including you as well. If you do not have 5 people in the team then also you can take part in this challenge.
You can get matched with random people. HealthyWage will help you to find your team partner.
To win the challenge you have to lose the highest percentage of the weight. Losing a proper amount of weight can help you to get a prize of $10,000.
If unfortunately, you are not able to win the money, you can still get your entry money back if you maintain your weight for the next 6 months.
For this challenge, you will have access to the HW coach 24/7 via the Support feed. The challenge can go up to 12 weeks and you will get support in the coming weeks. This app has got a 5-star rating on the Google Play Store.
To enter in this challenge there are very simple steps to perform, You have to register for this challenge first and then you have to select team type. You will get to see options where you can join a premade team or you can make your team also. Select the team which you like the most or you can join the team from which you got an invitation.
You can recruit more team members if your team does not have 5 members on the list. To submit your weight proof you have to shoot a short video while scaling your weight on the machine. If you think that creating a video is not suitable for you then you can get a certificate from VerifyMe of your body weight.
2. DietBet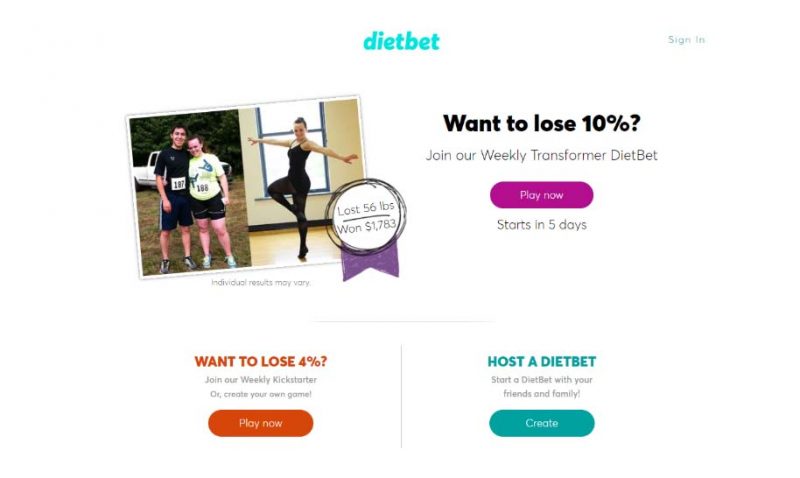 DietBet is also one of the best way to make money by losing your weight.
The time you visit this website you will get to see multiple campaigns and programs running on this website. You can join which you think is suitable for you.
You can join their weekly Kickstarter games or you can create your own game set. These games will help you to lose 4% of your weight. There are more than 8 lakh people who have already joined this website. DietBet has given its users more than $60 crore to its users.
There are two options available on the website. The first one is a Kickstarter pack where you can lose 4% of your body weight and the second one is a Transformer where you can lose up to 10% of your body weight in just 6 months.
Regarding the Kickstarter pack, if you want to register for it then you can sign up on their website. After successfully registering you have to check your body weight and upload a picture of your machine while weighing yourself. You can now continue with your account on Dietbet
28 days after the challenge, you have to take another screenshot of your weight and upload it to the website. Now the step has come for which you started all this. After a short time period, you will get a result of your challenge in the way of money which you deserve.
This is a win-win situation for all of us. Think if you will not win due to any possible reason your competitors will earn money and you will win to lose your body weight.
There is also another scheme which you can join called Transformer. You have to join this challenge from the official website. Submit your body weight stats and gain entry into the event. There are 6 different rounds in this challenge that you have to complete.
After a given time period, the team will ask you to submit your current body weight if you have completed the checkpoint you will get paid to lose weight easily.
3. RunBet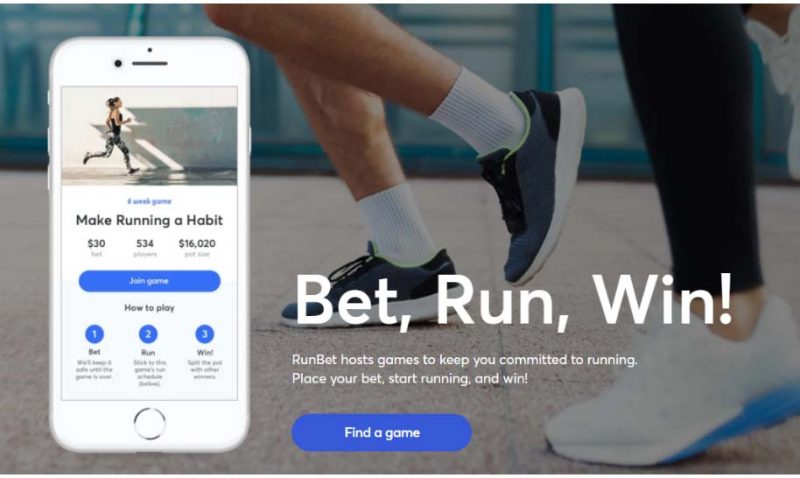 If you want to get paid to lose weight and not able to find a proper Android app to do the same then you can use RunBet. Download this application on your smartphone and start learning from the very first day.
In order to register for the challenge and earn money, you have to follow 4 easy steps. You can check these 4 steps below. But before performing the first step this app must be downloaded in your app, if the case is not the same then you have to download the app.
Okay, so if you have downloaded the app now you can proceed to these steps.
First, you have to pick a game which you like the most on the list. You will get to see multiple game options on the list you have to select the most appropriate for you. After selecting the game now you can perform the second step.
Now you have to bet on your abilities. Yes, sounds weird but you have to do it. In other words, you have set your goals and abilities that you can run this much distance and do these types of exercises.
These step will help the RunBet app to create datasets for you. These datasets will help you to track your routine and progress in losing bodyweight.
The third step is related to the exercises you selected in the first step. You have to complete all the diet plans and exercise sets.
After doing so much hard work now is the time to earn some money out of it. The moment you complete your goals and checkpoints you will get awards directly in your account. There are more than 5 exercises and games which you can opt for.
4. Stickk

So many people do a lot of hard work to complete their goals but sometimes they fail because of so many reasons. One of the general reasons is the starting thing in the wrong way. That's why there are a lot of differences between successful people in the world.
stickK is here to help you with that. If you want to get paid to lose weight and you do not know how to start these things then stickK is here for you. This mobile app will ask you for a Commitment Contract which is a type of agreement where users have a contract of his commitment which he did to the company in order to achieve their goal of losing bodyweight.
So what you have to do is just install this mobile application from Google Play Store or from their official website. Then you have to set your parameters and goals in this app. Every user has the freedom to make their commitment so your goal is your goal only. Describe your achievement in this app and write down the things that you can do.
Keep remembering that goals are always one level up. So write accordingly.
Now you can set your goals and start working on them. After a limited time period if you will be able to achieve your goals you will get paid. You can also invite your friends and your loved ones to this app.
You can track your performance with its stats and profile options,
5. Achievement- Rewards for Health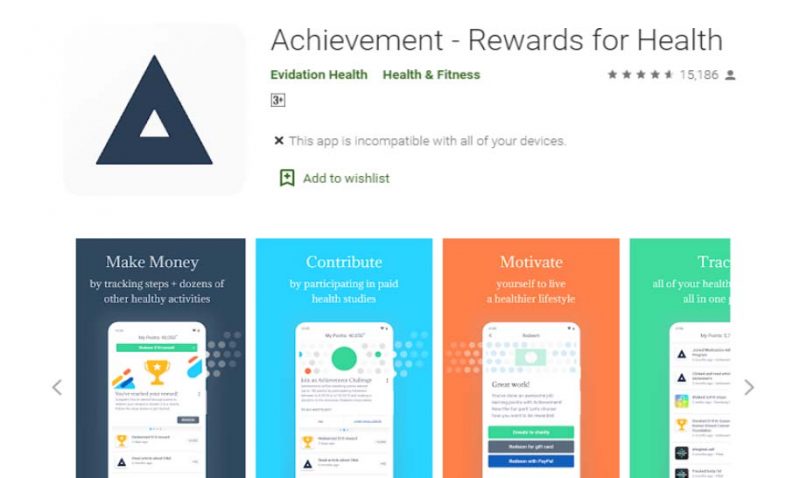 Achievement is something which can make any person happy. If you are working hard and you achieve your goals what can be more pleasant than this moment. Achievement is one of the popular mobile apps in the market which can help you to get paid to lose weight.
The mobile app has a very good user interface and every step is illustrated properly. Achievement is a product of Edvidation Health. This company collabs with so many brands and other companies that want to sell their products.
On the Achievement Application Platform, we pay you to:
Log Meditation sessions

Answer surveys or opt into a programmatic health challenge

Tracking steps

Log food
Achievement Studies have researched conditions including:
Asthma

Cystic Fibrosis

Diabetes

Mental Health

Migraines

Rheumatoid Arthritis and more!
The Achievement app has scored more than a 4.5-star rating on the Google Play Store. This application has donated more than $500,000 money to its users. So you can also make a good amount of money.
This application has got so many reviews on the store. So you can download this mobile application and it will help you to lose your weight as well as you will get money by doing the same.
6. Charity Miles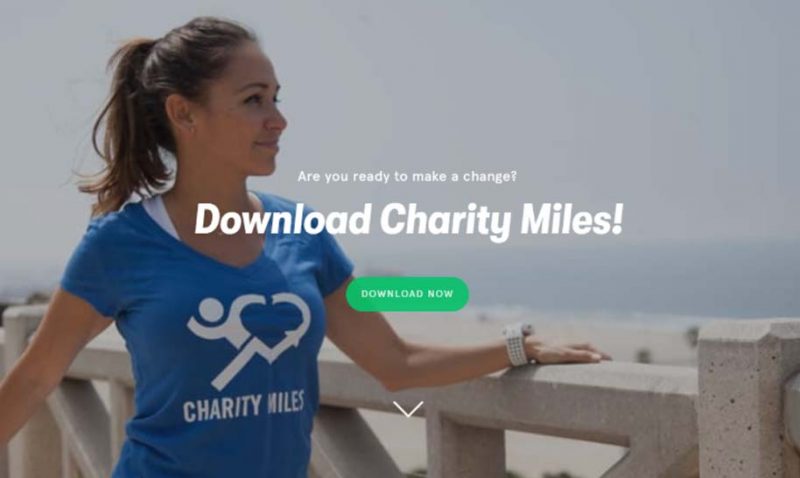 The Charity Miles app has been featured on the top app's list on Android's and Apple's app stores. You can easily get paid to lose weight on Charity Miles app.
What you have to do is you have to install this mobile application from your respective apps store. One thing you should give attention to is that this application is totally free for iOS as well as for Android users also.
After downloading the app now you have to register for this app. Now you have to choose your charity. You might be thinking about what charity is here. These are some brands and sponsors attached to this brand.
The next step is your records and stats. This application will store your data related to all kinds of movements you do like running, walking, biking, and dancing. It will track every activity. So now it's your turn to become a game-changer.
After completing a mile of distance by running this app will provide some money to your charity which you selected in the first step.
7. Walgreens Balance Rewards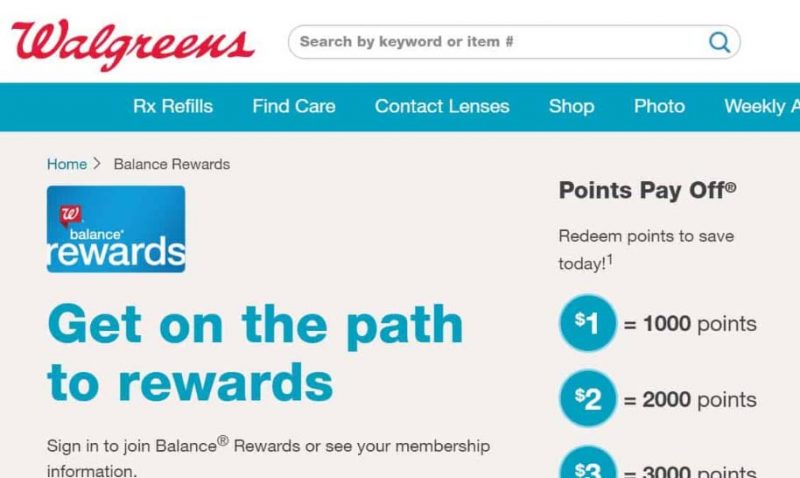 Walgreens Balance Rewards has a four-week challenge that you have to complete within given time targets. There are two types of challenges available on this app: the first one is physical and the other one is a lifestyle.
You can also track your performance and points which you have collected so what are you waiting for just download this application and earn money while losing weight at home.
Final Verdict
So, guys, these were the top 7 mobile apps and websites where you can get paid to lose weight as well as earning money also. These apps are going to help you lose weight. Yes, I know that this is necessary for you to get proper guidance and usage of each app which you are going to lose.
Also, keep in mind that sometimes you may not win any kind of money from these applications but you will lose your bodyweight at least. So what are you waiting for? Just go to the app store and start using these apps.
I hope guys this post helped you to find legitimate ways to get paid to lose weight. You can also share this piece of content on Facebook and Twitter. Also Feel free to subscribe to know more genuine ways to make money online.