Why is email branding best way to promote your products or services? Branding of your blog or website is necessary as any company's advertisements. If someone visits your blog they will never come back unless they get something from you. It means if people get rid of your blog. They want to be notified by email subscription whenever some interesting stuff comes on your blog. MailChimp is an email marketing service provider. It gives services to add email subscription form on your website. There is a limit of sending emails to your visitors if you are using free subscription of MailChimp. You can get more features and increasing number of email by getting a paid subscription. So It is an elegant way for newbie bloggers to get email subscriptions for their visitors.
Easy Steps To Get email Sign up Form Using Mailchimp
Firstly you need to create an account and create an email list on MailChimp.
Go to Mailchimp.com and create a free account

On Dashboard Click on Create a list Button

Now create Signup forms>

On next page, Click the Select button Next to Embedded Forms>

On Next Page, Design Your Signup Form and copy the codes>

Now Go to your WordPress Dashboard> 

Select Tools>Widgets and Add the codes into this text widget to your Website sidebar.
That's all, Now you can see a subscription form on your blog. Every visitor on your blog is able to subscribe to email newsletter from your blog. Now you can send emails from mail chimp account to your subscribers. But wait, If you want to send emails to your subscribers automatically whenever it needs. It is called newsletters. MailChimp has a great feature called Campaigns for this purpose. Follow simple steps and your readers would get emails from your MailChimp account.
On your MailChimp account click on Campaigns>Create campaign >

On next page Click on RSS-driven Campaigns>

Now fill your RSS feed URL and set timings when you want to send emails>

Select your list and click continue to get Campaign info page>

Give a name of your campaign, follow the instructions 

Now choose a Template for you and select Next>


Now design your email matter>

In the End, Click on save.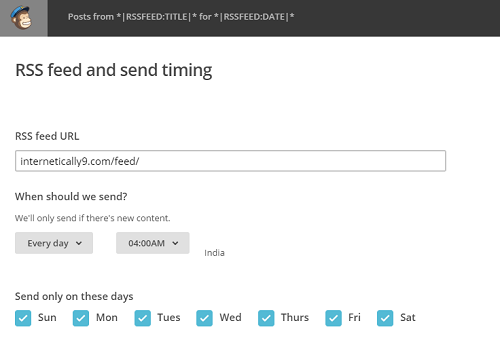 It has been all done. Now you have successfully made your RSS newsletter for your subscribers. Now send emails to your friends and family to grow the popularity of your blog.  Email marketing is still the best way to promote your products or business. The best thing about MailChimp is its elegant design and interactive methods. And the most special thing is that they are all time ready to support for any type of help. Even you can use a WordPress email subscription. But, Mostly big giants like Facebook, Twitter, Amazon etc, use a third-party email marketing service.
If you liked this article, feel free to share with friends. You can also reach us on Facebook and Twitter.